Competitive Intelligence Tool – WhatRunsWhere
The act of supporting executives and managers in making strategies and decisions based upon defining, gathering, analyzing and distributing intelligence assessment, forecasts of behavior or recommended course of action regarding a product, competitor, customers or some aspect of the environment is called competitive intelligence.
Learning about what's happening in the business outer world so that you can compete better and beat your competitors. Competitive intelligence is one of the most ethical and legal practice where the focus is on the environment external to the business. The process of getting information and transform it into intelligence and using it in decision making.
When it comes to online ad campaigns discovering insights and trends can be a difficult task if done manually. And this task can be handled more efficiently by machines, saving time and human efforts. Utilizing competitive intelligence for developing an ad campaign can be of great profits. The various details like the kind of campaign and what's working where can help one to ensure success of the strategy you would be using for your advertisement campaigns.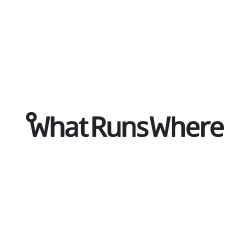 One of the most used web application utilizing competitive intelligence is Whatrunswhere.com, using this application you probably would discover several new sources to route traffic to your website or application so as to more efficiently monetize your advertising campaigns and to know what strategies are being used by competitors .
How to Use Whatrunswhere.com?
Whatrunswhere.com has wonderful and simple user interface and also has tracking capabilities across MSN Content Network, AdBlade, Quigo or Adsonar, Pulse360, Google Adwords Content Network and many others totaling to 18 display networks and 6 text ad networks. What runs where allows you to search for banners as well as the text ads. All you have to do is select the networks from the given list, the timeline for which you want the search to be performed and the keyword to be included.
Large Amount of Data and Ad research
Whatrunswhere.com offers a wide and extensive variety of data which is current and it keeps recording almost each and every aspect of the market to show what is in trend currently. Covering 15 countries on text, display and mobile advertisement trends and around 90 ad networks they manage to maintain the quality of their service very well. Using Whatrunswhere.com one can be sure to know what exactly the trend is in a specific country or a location and accordingly plan their advertising strategies.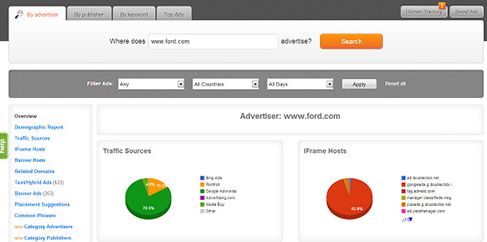 New and Existing Traffic Sources
There is a huge list of sources which are used to generate the data by Whatrunswhere.com these include Tribal Fusion, BuySellAds, Rubicon, Google/Doubleclick , ValueClick, 47 Media, AdBrite and many more. WhatRunsWhere even keeps a check on the latest new sources of traffic as currently Facebook is the largest source from where people can drive in traffic to their websites, blogs or apps but who knows the trend may change any day and just to be safe and keep tracking the traffic source and the change in the trends.
Text and Banner Advertisements
Text Advertisements and Banner Advertisements both can be looked for as I said earlier you can select whether you want to look for text ads or banner ads for your keyword and press the button accordingly. You can select a banner size like 300*250, 250*250 or 728*90 and so on. You can also select from many networks like Google Image Ads, Adsdaq, Zedo, Tribal Fusion, Burst Media and more. Selecting the timeline within which you want the banner ad. Press the search button and you'll get flooded with relevant results.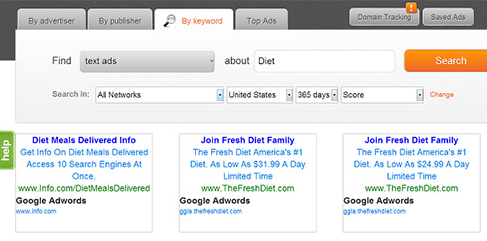 Domain Profiling
Checking out the traffic sources, Ad Servers Relationships, Text Ads used and Banner Ads used for the last thirty days on your competitor's website is one of the coolest feature I came across on this website and it'll be helpful to you in cutting down the competition and monetize your website properly. The Text and Banner Advertisement details can be exported and you can work on them even when you are offline.
Getting the Most out of WhatRunsWhere
You'll be amazed to know that they offer a trial for 1$ for 7 days. Now to make the most in your trial period I would advise you to have a list of at least the top competitors and the products which are being promoted in your marketplace. You'll be able to find a lot of data about the traffic sourse, landing pages and advertisements and you may have an advertisement ready within these seven days based on this data and who knows it may turn out to be profitable and you would like to keep the membership.
Plans and Pricing
Priced at 249$ for a month, WhatRunswhere is an amazing service which would help you learn and chalkout your advertising strategies. You can also go for monitoring and report changes feature for $229 a month.
Customer Support
They Offer customer support via chat and email. The response from the customer support team is quick usually though being a basic or trial customer you'll have to wait for some time for your queries to be answered. On the other hand if you are a premium customer you'll get an answer soon through a dedicated service line specially for a premium user.
Create Amazing Campaigns and Strategies Using The Competitive Intelligence Tool @whatrunswhere WhatRunsWhere.com/ via @supermonitoring
Drawbacks
As nothing in this world is perfect! WhatRunsWhere has some drawbacks too. It comes up with a lot of data and you'll have to figure out yourself what is going to work for you and it may be puzzling at times. Secondly, it may appear heavily priced to some.
WhatRunsWhere is a tool which is designed well to give you the desired result. You can be sure that while you're using this service you'll come up with a wonderful advertisement strategy for your product the next time you design one. It'll be profitable and would allow you to make a well informed decision based on the data generated by this application. So now if you want to kill out your servers with heavy traffic and more profits all you need to do is try out Whatrunswhere and I am sure you'll love the results.
Get notified about our new posts
By submitting this form I accept the
Privacy Policy
and I agree to receive blog-related information from Super Monitoring.