Chatfuel – Build Messenger Chatbots easy way
Companies are always looking for cutting-edge technologies that can revolutionize the ways of doing business. Customer service continues to remain an important element for businesses of all sizes. The latest technology that promises to improve customer service levels by leaps and bounds is automated bots in messaging apps like Facebook Messenger.
Chatbot – Customer Service powered by AI with a human element
First-Class customer service is something every customer expects from the service provider. However, the pressure to cut operating costs makes it impossible for companies to provide 24X7 customer service, especially companies with small budgets. With the arrival of messenger bots, it is possible for companies to offer customer service that is powered by AI with a human element.
A messenger bot is a piece of software that uses artificial intelligence to understand customer question and formulate an answer humanly. This has revolutionized customer service as companies don't need to hire agents to attend to customer queries. With the arrival of messenger bots, the customer is neither required to write a mail to get answers nor call the customer service (during working hours) to get an answer. It wouldn't be wrong to say that the messenger bot has evolved to become a direct line of communication between the business and its customers.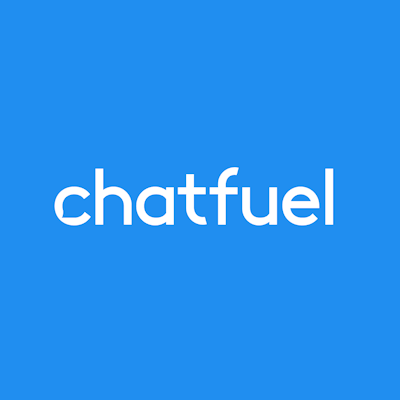 Chatfuel – Bot messenger building platform to provide first-class customer service
Chatfuel is bot messenger building platform that allows you to create your Chatbot using Facebook's Messenger. Chatfuel simplifies the creation of Chatbot without programming knowledge, and even technically-impaired people can do it without any hiccups. Some of the key features of Chatfuel are:
User-friendly interface – the learning curve is easy to medium. All options are well-explained
Campaign Sequences and Broadcasts – can send messages to a filtered list of users. Can send follow-up messages to users several minutes/hours after they discovered Chatbot
Payments and e-commerce – bots can accept payments from the user all over the world
Artificial Intelligence (AI) and Natural Language Processing (NLP) – automatic reply to keywords or questions from the users. Can also provide random answers
Analytics – provides analytics dashboard with total user chart, user retention, popular user input, and more. Send daily/monthly subscriber reports
Form and User Input – build a bot to ask questions and collect information
Custom fields and Tags – set custom fields on user actions and messages, personalize the message with the user's name
Notifications – notifies admin by email when human assistance is required
Integrations – built-in integrations with RSS feeds, Google site search, Zapier, subscription list
Cloning – allows duplication of single message block, group of messages or entire bot
Templates – 60 free templates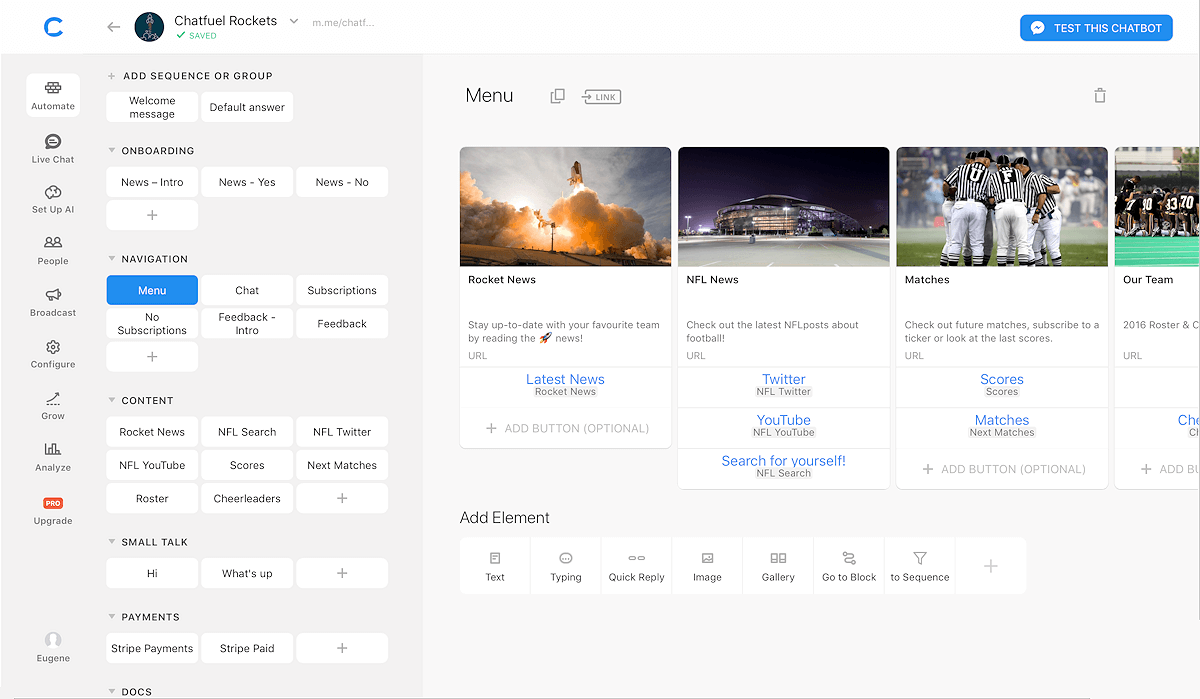 How does Chatfuel work?
The first step involves building a messenger bot for which you will need the following:
A Facebook account
A Facebook page ( a messenger bot can only live on a Facebook page and not on Facebook groups or personal profile)
A mobile device- a tablet or smartphone to test the Messenger bot
A laptop or desktop to create a Chatbot
Steps to build Chatbot in Chatfuel
Go to Chatfuel and click Get Started for free to create Chatbot.
When prompted, log in to your Facebook account and give necessary permissions to Chatfuel to receive your email address and public profile.
Click on Continue.
On the Chatfuel page, click Connect to connect the FB page that you had set up in the earlier step.
Now you will be logged in your Chatfuel account, and you will see the Welcome message.
Now go back to your Facebook page and click Settings.
Click on Messaging on the sidebar.
Scroll down to the last option Show a Messenger Greeting and change the option to Yes.
Type your Messenger greeting and click Save.
On your Desktop in Chatfuel account, click the Welcome message block and change it as per your requirement.
Under the built-in Blocks, click on Default answer.
Change the text as per your preference.
In the left-side menu, click Set Up AI.
Click on Add AI rule.
Under the box "If User Says Something Similar To box," type the word user might say like Hi, Hello.
Under the box "Bot Replies with Text," type the answer you want the bot to display.
Click configure in the left-hand column.
Click Add menu item and Add your website URL to Persistent menu.
Create the Main gallery for Chatbot.
Go to your Facebook page and click Add a button.
In the popup window, click Contact you" and then click on "Send Message."
Click Messenger and then click Finish.
After you have created a messenger bot, every time the user clicks the Send Message button on your Facebook page, the Chatbot will come live on the Facebook messenger page. Based on the configuration, the Chatbot will provide you replies or options. As per your answers or choices, the conversation will progress to help you get the information you seek.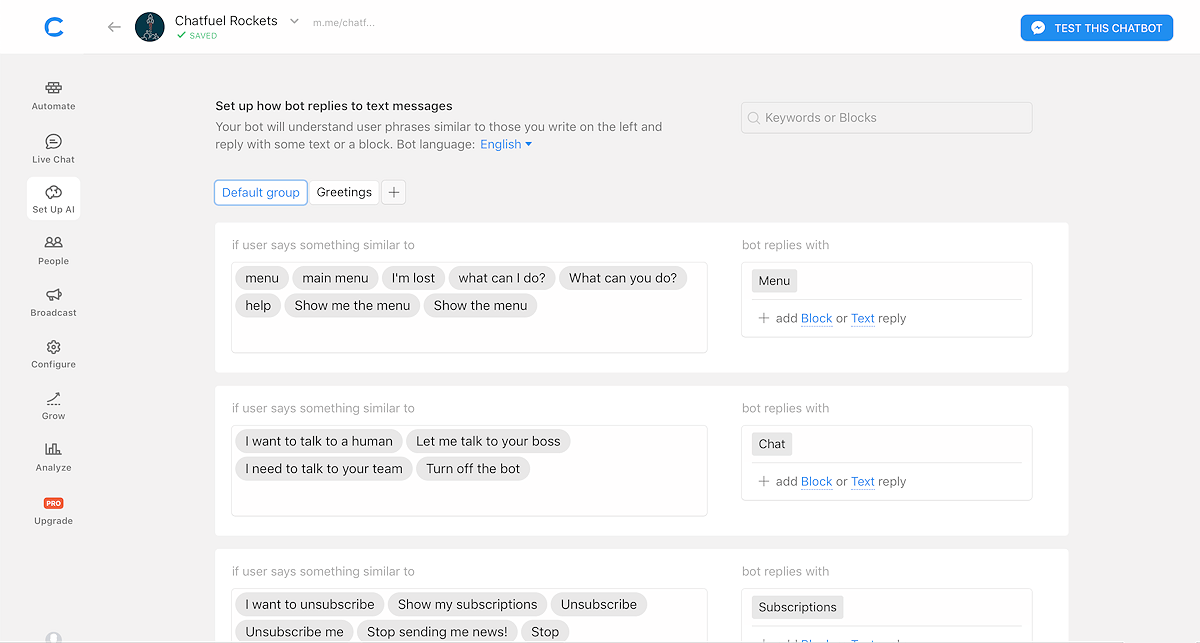 The brighter and darker side of Chatfuel
Pros
Very easy to use and learn to build fully functional chatbots quickly.
Deployment of Facebook Messenger is easy. You don't need to create Facebook developer accounts or seek approvals.
No coding expertise needed. All you need is writing skills to create messages.
Cons
The trial version has a watermark which will remain until you purchase a full version.
Support for branching, non-linear conversations, variable operations is poor or absent.
No support for jumping around a conversation or subroutines.
No support for another interface except FB Messenger.
No sequencing option to start to Chatbot marketing.
No built-in bot tester.
Poor documentation.
Want to build customized Chatbots for business? Try @chatfuel today! chatfuel.com/ via @supermonitoring
Final Word
With its easy to use interface, Chatfuel gives power to everyone to build Chatbots without the need to learn coding or understanding technology that runs it. The platform gives you much-needed tools to build a Chatbot in a few easy steps. However, Chatfuel fails to provide any advanced tools to build chatbots for non-linear conversations or marketing campaigns that is limiting in many ways. Overall, it is quite a good Chatbot building platform for any business which wants to enhance its customer-friendly value without spending huge.
Get notified about our new posts
By submitting this form I accept the
Privacy Policy
and I agree to receive blog-related information from Super Monitoring.