BaseLinker – Best E-Commerce Integrator
In today's digital age, the shift to automated tools has to get a wriggle on since the uncertainty of physical workflow prevails. As such, online businesses require software and tools which can integrate manufacturing, inventory, financials, and orders at one place to enhance the internal communication between the ecosystem, all the while increasing the overall revenue.
If you're an e-commerce business looking for such a solution, we've got a tool for you which can single handedly take over your entire workflow, and which also has numerous rich integrations for you to go about. We give you, BaseLinker!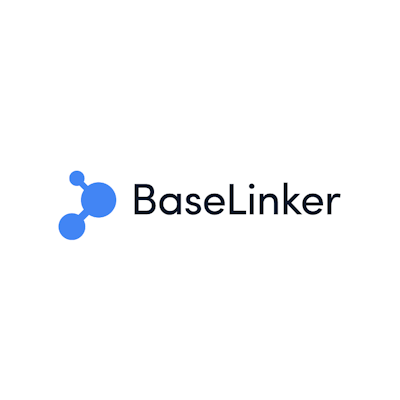 BaseLinker not only provides access to all your orders in one place, but it also keeps a track of your warehouses. You can easily list and edit all your offers in one go on a variety of sales platforms, along with automatically pushing off emails to your consumers so that you have time to focus on activities to expand the business.
BaseLinker – The most efficient marketer
BaseLinker is an efficient and able tool that allows you to conduct multi-channel sales, from within a single interface. The tool has integrations with numerous renowned online marketplaces, and with it, you can conveniently add orders right from your mobile phone.
The tool has a dedicated order management feature which automates the processes of sending messages and emails, issuing invoices, as well as printing labels. It also lets you rope in agents who can collect packages, wrap them up, and deliver them to the customer's location without the need for middlemen.
Although the list of features that BaseLinker has to offer is quite long, a few of those features are listed down below:
Warehousing made easy
If you don't have a warehouse of your own, BaseLinker lets you keep a database of your entire stock in the form of a virtual warehouse. It helps you manage the product data and your entire inventory very easily.
List products directly
It gives you the option to put products on the virtual market directly from its warehouse. You can build a database with categories and list offers with just a few clicks.
Proper record
The tool ensures that there's proper synchronization between the price and stock on the various marketplaces that you sell on. It also closes offers once the stock price hits zero.
Customer updation
The consumers are automatically notified regarding any change in the package status. They can also track their orders conveniently, thanks to integrations with various popular carriers like FedEx, DHL, UPS, and more.
Automated change of status
The tool offers you the feature of creating custom statuses to sort out your order lists. A quick automatic action module helps remove the orders as needed when an already stated event occurs.
BaseLinker is a handy tool when it comes to getting a grip of all your e-commerce workflow activities. It is very capable of not only enhancing the process but also in handling consumers. Moreover the host of features that you get with it is simply a game changer for anyone who wants to go all in for automating their e-commerce business.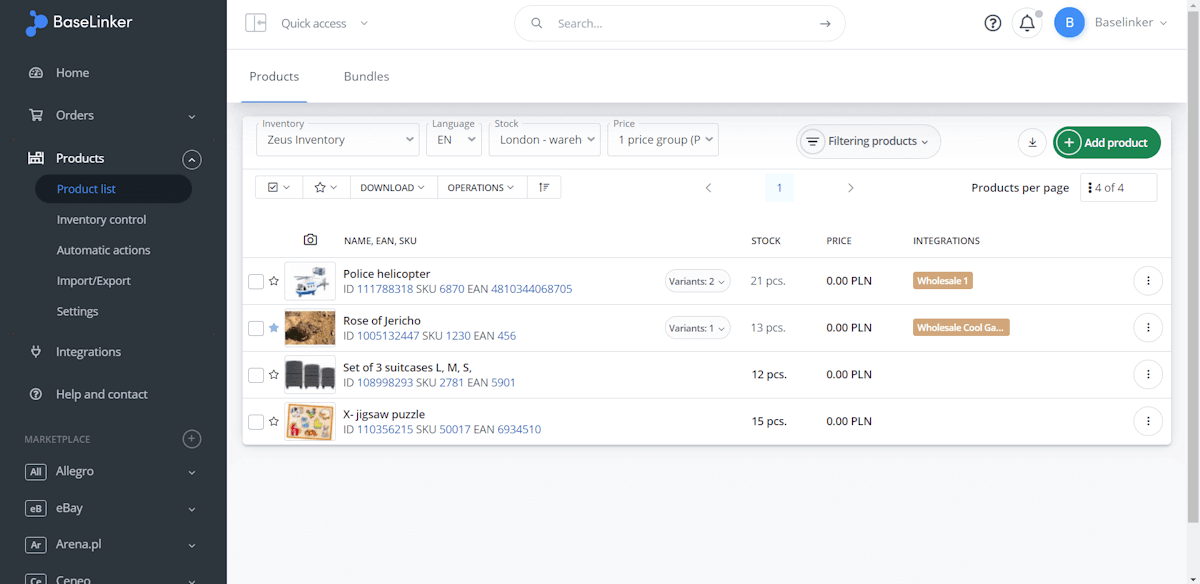 How it works?
To get started with BaseLinker, you'll need to set up your account first. Here are the steps you will need to follow.
You will need to provide your email id, tax number, and some other company details to start with. You will also have to select a plan for the duration you want to use BaseLinker for.
Once registered, you will be taken directly to your dashboard where on the left-hand side you'll find the various features that you can use. Among them, you'll find the product, warehousing and package management features which are quite straightforward to use.
From the 'My apps' column, you will be able to link BaseLinker with various applications like Google calendar, Gmail, Spreadsheets, etc. Once they're linked with your account, you'll surely experience a much smoother process since you'll be able to easily moderate between them according to your need.
The tool also has a dedicated 'Task History' feature, from which you can look at the various activities you've performed and get a record of all the operations that have already been completed.
This is just a sneak peek into what BaseLinker can help you achieve. The tool packs several more features and capabilities, which you can learn about if you try it for free (yes, free trial is available).
Evaluating BaseLinker
Baselinker offers you numerous benefits. It's very easy to use and loaded with features which enhance the processes and take away the manual work that you have to do. With this tool in your hands, you can focus on the key business building activities for growth and expansion. However, all that said and done, like any other software, there are a few cons to the tool as well.
Let's take a quick glance at a few pros and cons of BaseLinker:
Pros
Integrations with numerous marketplaces and courier partners.
Allows taking care of multiple activities from one place.
Completely automated process without setting up any reminders.
Cost effective.
Cons
The dashboard does not look very interactive.
Since there are a variety of features running at the same time, the software lags at times.
Manage your #ecomerce operations automatically from an intuitive interface. Try BaseLinker today: baselinker.com/ via @supermonitoring
Final verdict
BaseLinker is quite a useful tool if on-the-go e-commerce management is what you're looking for. With this tool, you get the option to have multichannel order and product management, and its virtual warehousing feature takes care of all your stock management issues. What's more, it also provides you the option to list your goods directly to the customer while assisting with agent assignment as well.
The software is quite reasonable when considering the huge number of features it comes equipped with. Be assured, the tool can change your marketing game completely while taking away the manual work.
Get notified about our new posts
By submitting this form I accept the
Privacy Policy
and I agree to receive blog-related information from Super Monitoring.