3 Best Sales Funnel Builders For Building Your Online Business
Trying to pick the perfect sales funnel builder can be quite challenging. Heck, it seems that there's always a new tool coming out every week. I'm sure you've noticed that, too.
So how can you properly pick a tool that's going to benefit you the most? Be sure to keep reading to find out.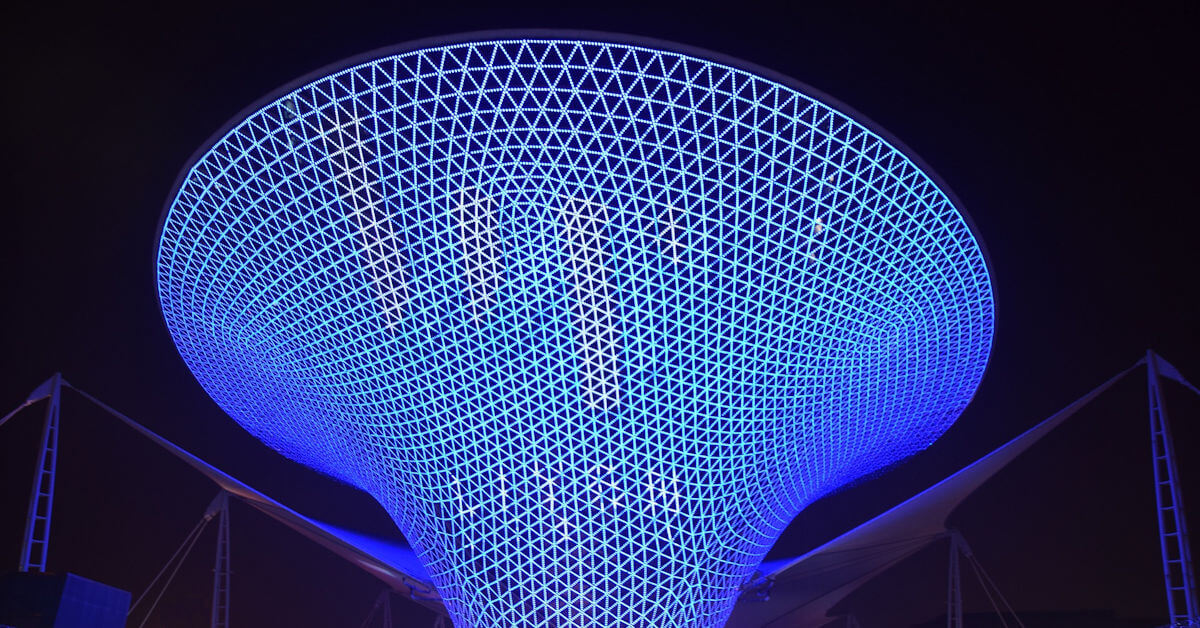 These three tools have quite a few things in common:
They are simple to use.
Their prices won't break the bank.
And they've been out for at least a year or two or longer…
Which means they have stood the test of time (and will stay around longer).
So which 3 sales funnel builders am I referring to?
Kartra.
Builderall.
And of course ClickFunnels.
Let's go over each and point out some of their biggest features and benefits.
Kartra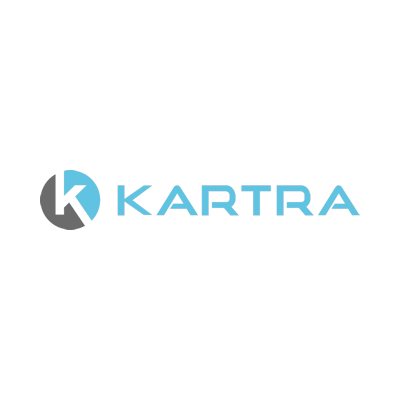 Kartra has been out for a few years now, and their tagline is (as stated on their homepage):
Your online business made easy.
They certainly hit the nail on the head with that tagline.
So when it comes to Kartra you can:
Create, launch, and market online…
Without hiring a team of copywriters, web developers, or designers.
What also makes Kartra so beneficial is that they are an all-in-one platform. They pretty much do it all. Here is a very small list of a few things they can do:
Pages.
Checkouts.
Send emails.
Memberships.
Generate leads.
Create funnels and campaigns.
Upload your videos to their servers.
Book your calendar with appointments.
And a whole lot more.
Here's a little bit more information about some of their key features.
Pages
Because you need pages for sales funnels right? With Kartra you can create any type of landing page that you have in mind, and there's even plenty of features that come along with their pages.
100% mobile optimized so you don't lose out on any traffic.
Drag and drop editor (a simple process for creating landing pages).
There are over 100 templates that will help you get up and running faster.
And yes, you can even create secure checkout pages to sell your products, offers, or services.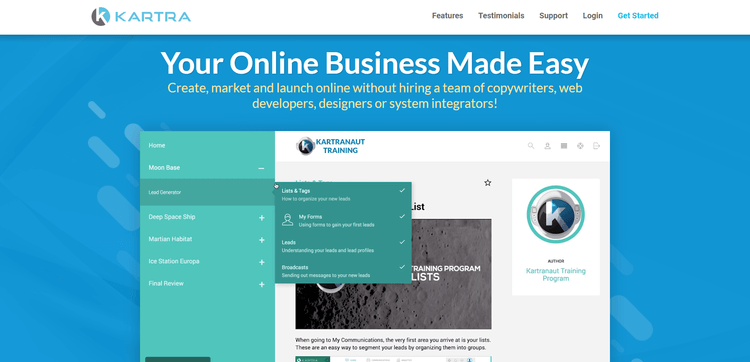 Memberships
This is perfect for keeping your content safe from those who haven't invested in it. Aside from that? Kartra's memberships are some of the easiest to create with their drag-and-drop editor.
Whether you want to:
Gate your content.
Drop your content.
Have many membership tiers.
Or even structure your memberships with a variety of content.
You can pretty much do it all. And since they have so many features within their platform? It means you won't have to go out and spend more money on other tools.
Closing
With a simple drag and drop interface and many features to choose from, Kartra is certainly a sales funnel builder that's worth testing… Especially if you plan on doing everything under one roof (so to speak).
Let's move onto the next sales funnel builder now.
Builderall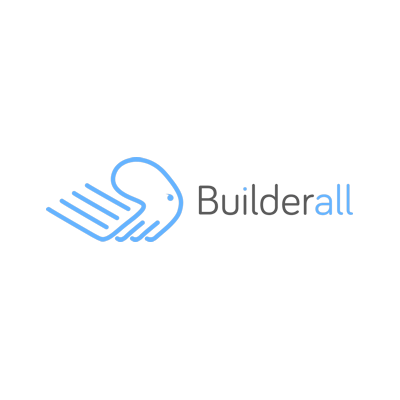 Builderall is all about helping you:
Sell.
Build.
Market.
And automate.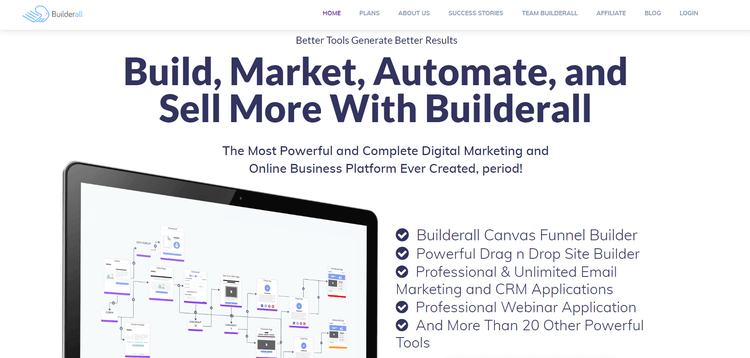 If that sounds like music to your ears? Then there's a good chance that you'll like what Builderall has to offer. Right off the bat, they are probably one of the best-priced sales funnel builders out there. Plus, they have more features than you can shake a digital stick at.
Here are a few of the most popular ones.
Canvas Funnel Builder
This is where all the magic happens (when it comes to funnels). A nice little extra touch is that there are many funnel templates to choose from (as shown below).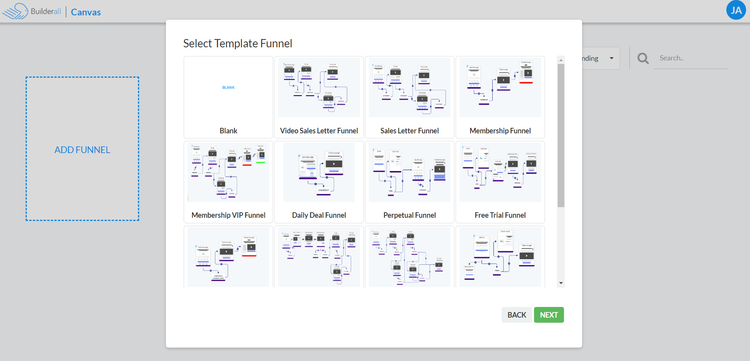 Similar to Kartra, Builderall also has its very own drag-and-drop builder. While it might not be the smoothest on the market, it still out-performs many others out there.
Next up.
Email Marketing App
Similar to Kartra, Builderall has its very own email marketing app for sending out emails. The number of leads you get will also depend on the plan that you get.
With the Builderall Essential plan, you get 10,000 leads.
With the Builderall Premium plan, you get unlimited leads.
That's a nice little bonus, considering how much it costs to get a separate email marketing tool with at least 10,000 leads.
More Features
Builderall has so many features, that you could be using them for months and still not test out everything they have to offer.
Here's a quick list of a few more helpful features that come along with this tool:
AB split testing.
eCommerce site builder.
Facebook messenger chatbot.
Webinar and streaming platform.
And a bunch more where those came from.
It's best if you saw for yourself.
All in all? Builderall is a solid priced-right choice that comes equipped with a ton of helpful features.
And now to the last sales funnel builder.
ClickFunnels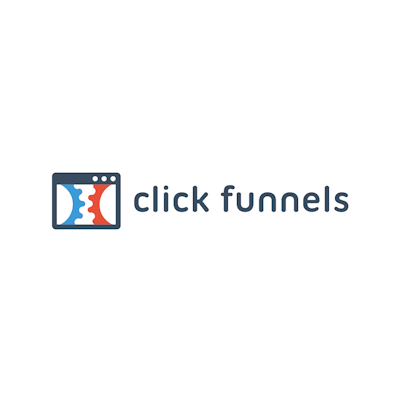 ClickFunnels has been out for many years now and has exploded in popularity. At the time of writing this, they currently have over 97,000 customers!
The numbers say it all (so to speak). Let's take a closer look at what ClickFunnels has to offer.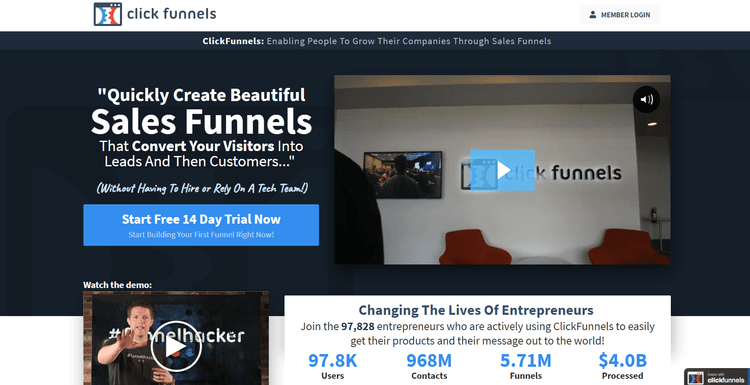 One Click Upsells (And Downsells)
This is a feature that can actually pay for ClickFunnels itself. What this allows you to do is add upsells after your main offer. And the best part? Your customer has to only click a button once to purchase them.
They don't have to re-enter their name and address.
And they also don't have to re-enter their credit card information again.
One-click upsells (and downsells) have been proven to help increase conversions.
Here's another feature that will help increase your revenue and profits.
Order Bump
This is something that gets added to your secure checkout page. Here is a picture to give you a good example.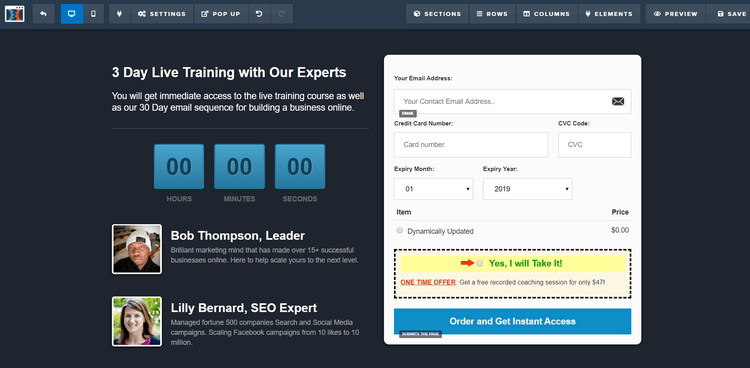 As you can see towards the bottom right of the screen it says:
Yes, I Will Take It!
All someone has to do is checkoff that box and it instantly gets added to their order. Pretty cool right?
Let's look at one more feature.
Webinars
ClickFunnels allows you to build amazing webinars. In fact. They do it much better than Builderall (as Kartra doesn't have a webinar option).
Here is an example of a webinar signup page that the owner of ClickFunnels created: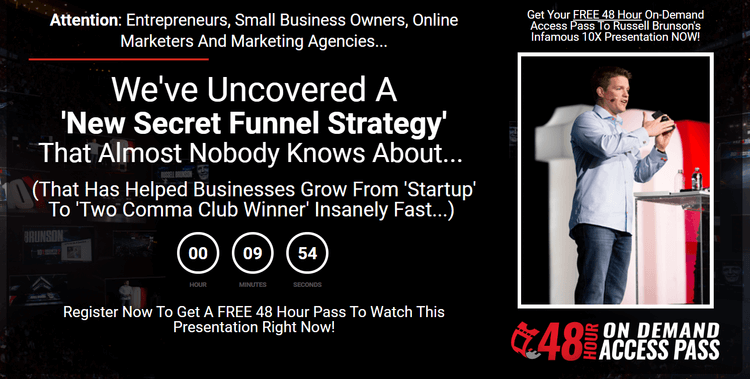 Not bad right?
When it comes to webinar funnels you can also create:
The registration pages (while putting timers on them).
The thank-you pages (after someone opts in).
The broadcast room and the replay rooms.
Along with the secure checkout page, upsells, downsells, and download area.
Keep in mind that the download area can also be a membership page as well.
Utilizing webinars allows you to sell:
Mid ticket offers.
Hich ticker offers.
And even set up appointments for coaching and consulting.
Webinars are an overall great way to significantly add more revenue to your online business.
More Features
ClickFunnels also has many great things going on for them as well:
You can create any type of landing page or sales funnel…
Which even includes membership sites and even webinar funnels (as talked about above).
They have their very own email marketing tool (which comes with the Platinum plan).
And they are spending more money on their software to help improve and grow it.
They also might have the lowest learning curve out of all the other tools.
Alright. Let's wrap things up now.
Conclusion
I hope this helped when it comes to narrowing down the choices for sales funnel builders. There's just so many to pick from nowadays. And to make things even more challenging? There are always new sales funnel builders coming out all of the time (which usually aren't that great).
So whether you want:
Simplicity…
The right price…
Or pretty much anything under one roof?
These sales funnel builders will work wonders for you.
I want to say thank you for reading this post, and I hope it helps you to pick the proper sales funnel builder for you and your online business.
---
About the Author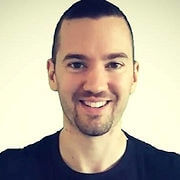 James Canzanella is the owner of IMNights, a website dedicated to helping online businesses grow through the use of affiliate marketing and software.
Get notified about our new posts
By submitting this form I accept the
Privacy Policy
and I agree to receive blog-related information from Super Monitoring.