Station: A powerful smart browser for all your web applications
The Internet has become an integral part of our lives. Be it work or daily chores, we can't imagine getting through the day without it. As our reliance on internet increases day by day, a majority of applications we're switching to have web-based interfaces. The growing popularity of smartphones and portable devices has fueled this tech revolution.
Most applications that have web-based interfaces are hosted on the cloud these days. Undoubtedly, that makes such applications more robust, scalable, and flexible. Several of these cloud-based applications can be easily accessed from any web-browser. However, every browser is different, and each has pros and cons.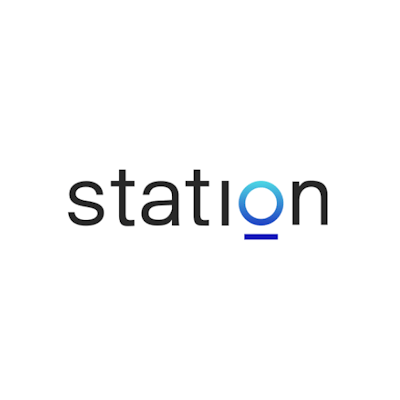 If you are a user who relies on a cloud-based solution on a daily basis and seek a better alternative to your usual web-browser, you might want to consider Station. Station effectively lets you shuffle between tons of applications with absolutely no lag.
Let's dive a bit deeper into this amazing application.
Station: Smart Browser for Busy People
Created with a vision to get things done swiftly on a unified platform, Station lets you customize your online workstation to manage multiple tasks simultaneously. This smart browser serves a number of purposes and provides an extensive list of features that the modern-day tech geek needs. Let's explore some of the prominent features offered by Station:
Smart Dock: A smart dock works wonders when you have to open a number of tabs at the same time. Station smartly automates grouping of tabs on basis of applications making management easier.
Multiple Accounts: You must be familiar with switching to incognito tabs for opening multiple accounts in your internet browser. With Station, you don't have to bother as it allows easy integration of multiple emails, social media, and online platform accounts.
Notification Center: A panel for notifications which lets you analyze activities from your apps at a single glance.
Team Repository of Apps: Collaboration is a key aspect among teams where sharing ideas and content becomes cumbersome. Station smart browser allows you to contribute and supervise your team applications use.
Unified search for all Google Drive accounts: Perfect for users operating under different Google accounts to manage content, Station lets you perform an easy search for documents across all your active Google accounts in the browser.
Extensive public application store: With over 600 web applications, you will not need custom solutions to cater to your professional requirements. Their comprehensive app store provides applications for easy integration with the browser.
Application mute feature: Some applications are more of a distraction at times. Station provides an app mute feature that lets you turn off notifications from unwanted applications and focus only on the more important things.
Do-not-disturb mode: This mode lets you mute all applications with just one click, so that there are no notifications when you need to concentrate in solitude.
Custom Apps: Privacy is a major concern for most users on the internet. Station allows easy integration of apps that you can customize for visibility. With Station, adding public or private team-specific applications is just a few clicks away.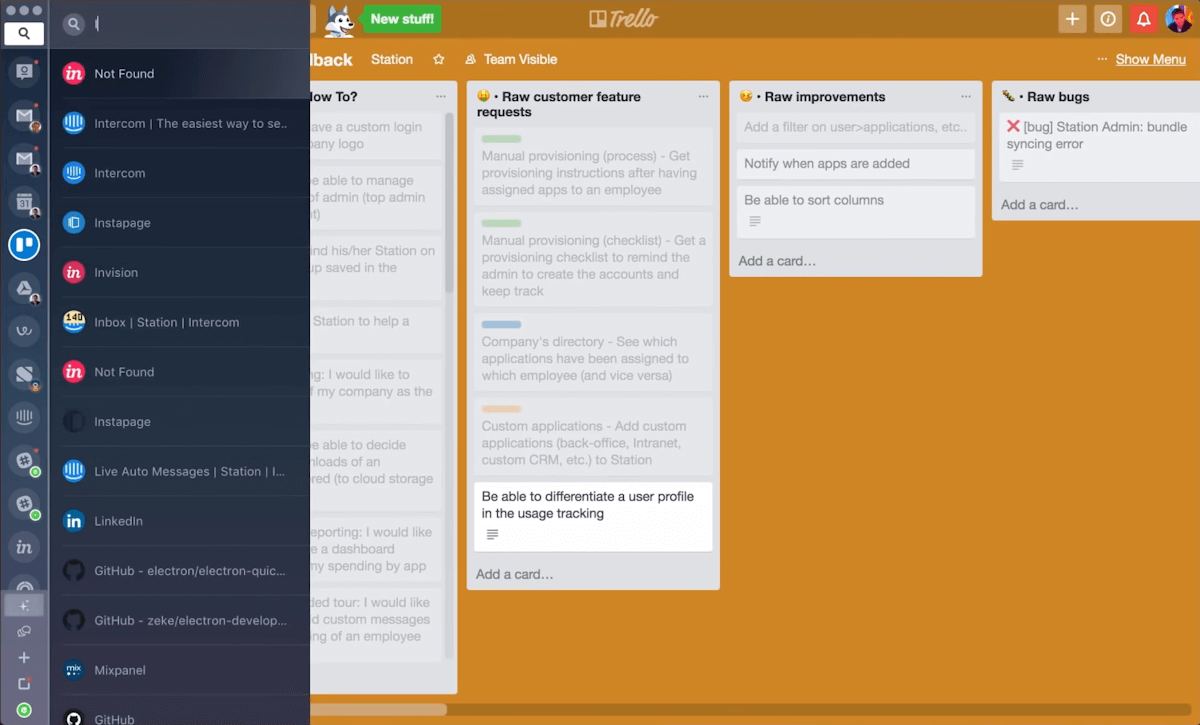 How it works
There are hundreds of applications that you can integrate with Station. Let's take a look at how you can achieve this:
Simply head to "https://getstation.com" and download the browser for free. Station is available for most OS distributions like Windows, Linux, and Macintosh.
An installation file will commence downloading. Upon completion, you can follow their step by step installation guide to complete the setup.
As might have noticed while installation, setup requires you to specify three applications to start with. But you can opt to delete them later as this is a mandatory step. You can also opt to create a desktop shortcut for ease of access.
Now as you will open the browser, you will find an enticing interface that is customizable.
The apps you opted for while installation will appear on the left panel of the browser window. This panel is actually the smart dock that provides a number of interactive features like the grouping of tabs.
The magnifying glass that you notice on top of a smart dock is actually a search engine within the browser. So, suppose you have linked your Google account with the browser, this quick search panel will allow you to search different documents specific to the linked Google accounts. This also lists your recent applications under one tab.
Under the Quick search option, you will find recent applications option on the smart dock. This chronologically lists your applications.
Now to add more applications to this smart dock you will notice a plus sign on the bottom of the left panel. As you click on the plus button, an extensive list of applications will appear categorized on basis of domains. You can also directly search for applications from the search bar.
Evaluating Station
Pros
Over 600 applications with easy accessibility and management.
Smart dock for a unified panel for applications and different features that come with the browser.
Easy search panel to effectively search documents, applications, and content.
Integration of multiple accounts.
Intuitive features do not disturb mode, app, and notification mute.
Cons
Applications somewhat limited by the availability on the platform.
As you add more and more applications, the browser response time might decrease.
Work smarter with all your web applications – thanks to @stationhq getstation.com/ via @supermonitoring
Final Word
With more and more applications going online, a unified platform is the need of the hour. Smart browsers like Station provide the much-needed balance between efficiency and effective management, making content and data sharable with ease. But with such specialized browsers comes the delay and lag of underlying framework that provides these extensive features.
With an outlook for evolution and improvement, Station serves its purpose beautifully. It not only unifies data but also provides us the opportunity to manage and share content effectively. Browsers like Station are definitely an asset to provide prosperity in the cloud-based ecosystem.
Get notified about our new posts
By submitting this form I accept the
Privacy Policy
and I agree to receive blog-related information from Super Monitoring.