Sprout Social – A Leading Social Media Monitoring Tool
Most businesses have to decide whether to spend money on a social media management tool. Usually, this happens once people have joined a few networks and are starting to feel overwhelmed by how difficult it is to manage them. Let's look at some of the primary reasons why a social media management tool is worth investing in.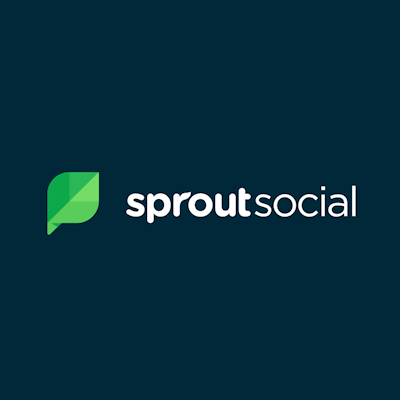 Almost 30,000 companies utilize Sprout Social globally, in fields including education, hospitality, fashion, technology, digital marketing firms, and everything in between. Companies utilize this platform to improve engagement, optimize the process, boost customer happiness, and more.
For businesses and agencies, Sprout Social is a social media management and intelligence solution that enables them to manage conversations and uncover practical insights that have a tangible impact on their bottom line. Solutions for improved social marketing, customer service, data analysis, social listening, and staff advocacy are offered through this completely integrated platform.
Features
Generate content for each social media channel
While simultaneously posting to Facebook, Instagram, and Twitter saves time, you might want to adapt the information for each channel. You might want to put hashtags on Instagram, but you might want to link website on Facebook and Twitter instead. To make posts that are specific to each platform, you don't need to continuously copy and paste the text. This Sprout function offers a more efficient solution: Schedule + Duplicate.
On a mobile device, view your Instagram grid
Sprout's mobile app allows you to preview your grid before uploading it to Instagram. You can see a preview of how all of your posts will appear together when they are published using this Sprout feature.
Target your Optimum Send Timing automatically in Compose
If you don't have any assistance in optimizing your schedule, picking out when to post for your target niche or social network isn't always an easy process and can consume a lot of your preparation time.
By emphasizing Optimum Send Timing directly inside the Compose window, Sprout's ViralPost helps make scheduling simpler.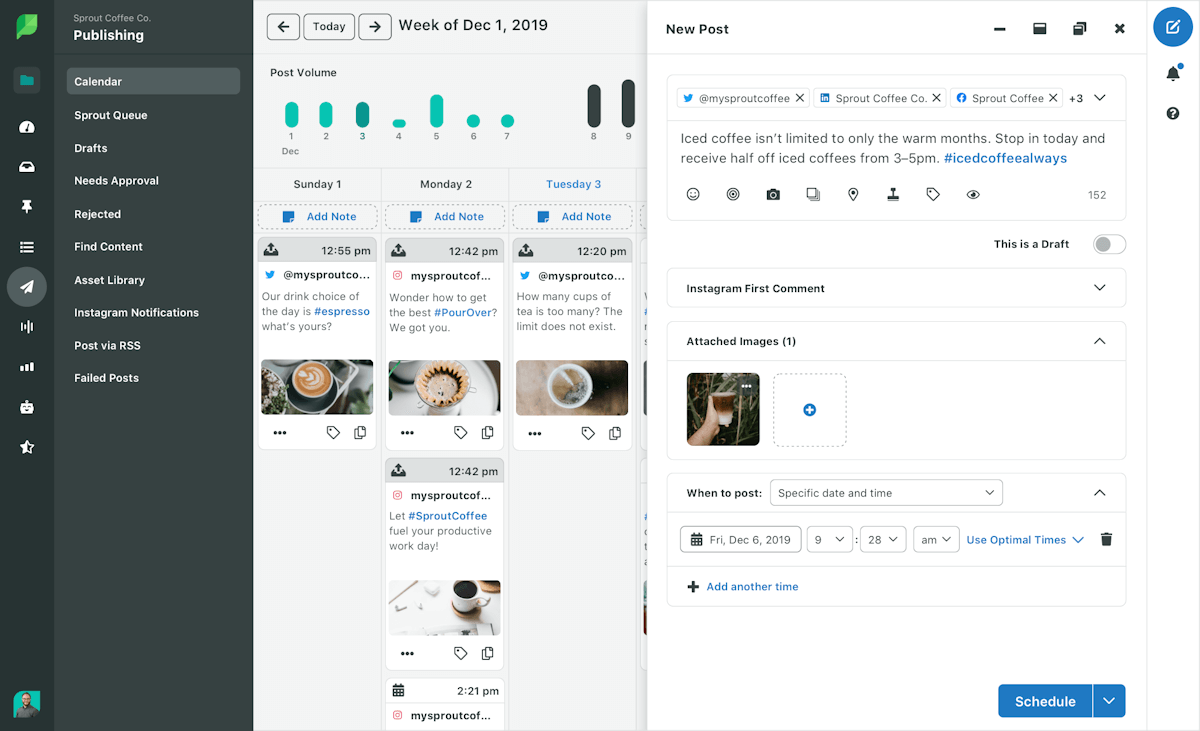 Pricing Plan
Sprout Social offers a free 30-day trial for everyone and they have 3 different pricing plans:
Standard Plan starts with $99 per user per month.
Professional Plan starts with investment of $149 per user per month.
The Advanced Plan is the most costly of the three Sprout Social plans at $249 per user per month and includes all the features of the Professional plan in addition to chatbots, custom URL tracking, Twitter polls, and more. This plan can be for you if you work for a large organization or just require the extra capabilities of the social media manager of a smaller organization.
Benefits
Discover market trends immediately
You can easily find out what a business is doing well or what people dislike by looking online. You may focus on what consumers are saying about your brand with Sprout's trend reporting function. You may monitor hashtags and important phrases related to your company, but these mentions and hashtags are more than just online chitchat.
Competitive Analysis
Studying your competition is perhaps one of the most beneficial social media business features. Tools for competitor analysis may be used to better understand your rivals. Using Sprout's tools, you can easily examine the social performance of your rivals. You can keep an eye on growth and engagement to make sure you aren't slipping behind with the help of their competition and sentiment analysis reports.
Using this study, you can also learn which of your content items is receiving the most interaction. Knowing how to cut through the noise in your sector requires awareness of your top-performing content.
Improve the quality of client service
Social media enables you to offer prompt, effective customer service, whether it is by listening to consumer comments or resolving particular issues. 53% of businesses claim that customer service supports their company's social strategy, according to the Sprout Social Index.
Sprout can assist you in evaluating the effectiveness and quality of your social customer support. Its collection of social listening solutions includes sentiment tracking to keep track of the health of your business based on favorable or unfavorable social mentions. An increase in complaints or inquiries may be an indication that your customer success approach is having serious issues. A surge of positive emotion, on the other hand, can be a sign that your brand is living up to or exceeding expectations.
Increase your search engine presence and backlink profile
For years, it has been debated whether social media affects search engine optimization (SEO). A piece of content that goes viral and receives hundreds of likes and shares can significantly increase referral traffic to your website. Moreover, traffic might be attracted by material that performs well on the Search Engine Results Page (SERP). Using Sprout's unique ViralPost technology, which guarantees you're using the best send times, you can optimize your social media scheduling.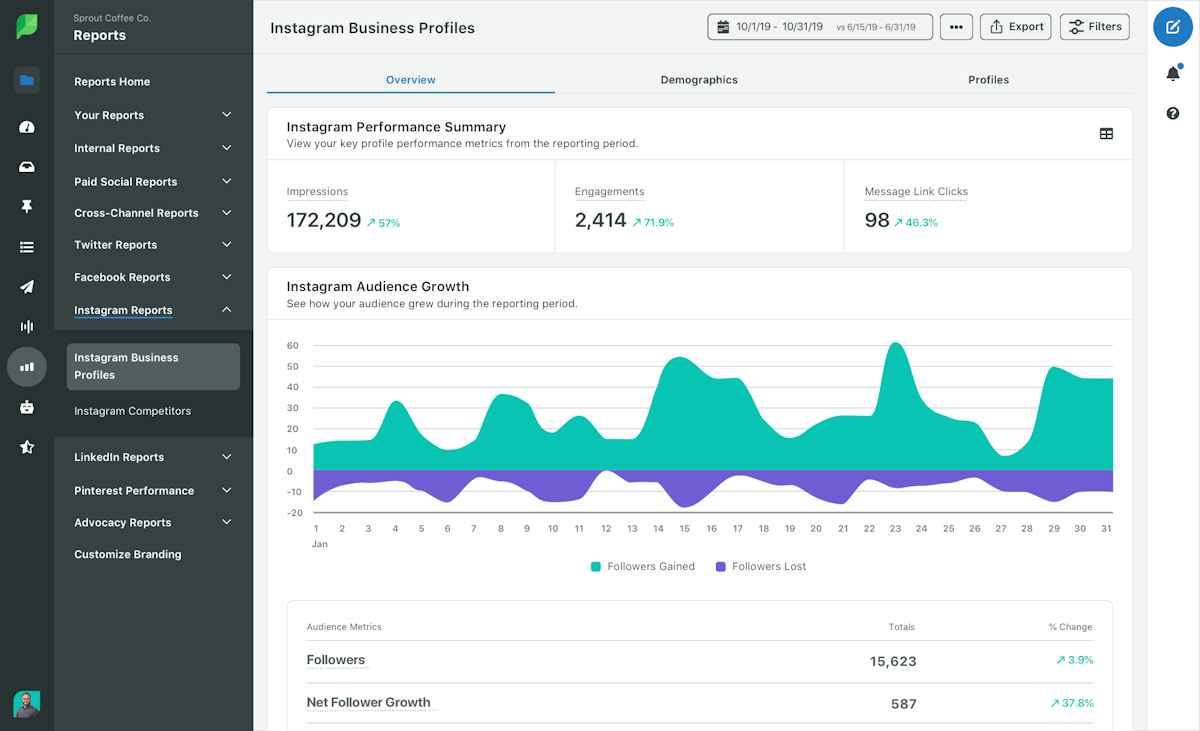 The drawbacks of Sprout Social
Publishing articles for numerous platforms using a single draft is one of the most popular uses for social media management software. Nevertheless, if you're using Sprout Social to schedule a post to Twitter, the textbox you use to write your message will only display Twitter's 280-character word limit. For instance, you can't simply go to Facebook and create a post that is appropriate for that social media channel. You must create different drafts if you want to write lengthier articles on Sprout Social networks that accept them.
Sprout Social is very expensive.
Post versions are absent from Sprout Social as well.
Final Verdict
It offers a wide range of capabilities that you and your team may utilize to streamline the publication process and enhance your social media marketing strategy. Sadly, Sprout Social has numerous shortcomings that make it inappropriate for a variety of businesses. The cost is the main problem. However, only top-tier subscriptions include services like the asset library, competitive reports, scheduling posts at the best times, and tagging. Even so, Sprout Social would be a priceless addition to any marketing plan if you could make the financial case for it. It works well as a social networking tool.
Get notified about our new posts
By submitting this form I accept the
Privacy Policy
and I agree to receive blog-related information from Super Monitoring.