RemSupp – Remote Access & Co-browsing Platform
We are currently pushed to discover creative and unique means for information exchange, and fortunately, new technology enables us to do so. However, we occasionally have issues such as being unable to access desktop displays or gadgets crashing. Remote desktop access comes in handy for this.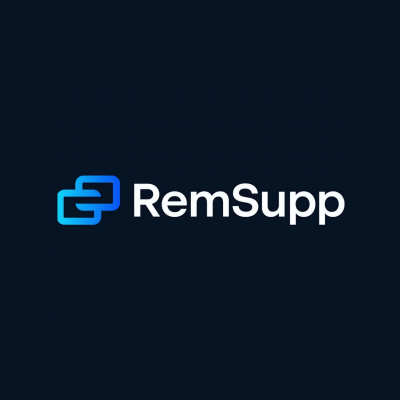 RemSupp is a technical support program that allows you to assist your customer via a remote connection. It gives on-demand assistance in the quickest way possible and helps invite people to attend a remote assistance session from anywhere on the globe. All that's required is a single click on the connect button, and you're good to go. RemSupp aids in acquiring continuous (always-on) access to distant devices. Presently, it has a Remote Support score of 35/100.
Join us as we dig deeper into RemSupp's features and usage in this post.
RemSupp – Remote Support redefined
RemSupp is a cloud-based remote assistance program that allows you to manage and advise your customer via a remote connection. Organizations can use the platform to deliver support services as well as monitor, operate, and repair PCs, laptops, tablets, and many other devices.
It has multi-monitor compatibility, web-based accessibility, unrestricted sessions, unlimited file and data transfers, audio and video phone conversations, clipboard synchronization, and other features.
Some of the significant and key features of RemSupp include:
Quick Remote Desktop
RemSupp Remote Desktop enables you to connect and operate another machine through the Internet using a web browser. It is compatible with practically every operating system, notably Windows, Mac OS, and Linux, and is an excellent solution for providing advanced technical help, collaborating, and increasing productivity.
Stable Collaborative Browsing
RemSupp co-browsing allows you to communicate with the customer's browser in live time without downloading any additional software. You can simply walk non-technical customers through complicated processes or hold an interactive sales session. RemSupp Co-Browsing is an extraordinary product aimed at customer support and the sales team's success.
Works quicker and saves time
RemSupp integration allows you to easily send invites to remote sessions right from a chat and solve your users' concerns without immersing them in technical specifics.
Some other features that make this application very user friendly and efficient are:
Unlimited sessions
Multi-monitor support
Video and voice calls with customer
Unlimited file transfer
Clipboard sync
Access via Web
Secure
Cross-platform
As a result, the RemSupp tool aids you in improving your customer satisfaction rates and efficiently aiding their gadgets.
How does it Work?
The following is how RemSupp functions and provides its features efficiently.
Quick access to Customer's Desktop
Create an on-demand service on the official website of RemSupp.
Share the code on your screen as soon as the session starts with others.
Direct your customer to the RemSupp App and enter the session code shared with them.
Now it's all done, and you have remote access to the customer's device (laptop, phone, or computer).
Permanent access to Devices
Start by creating an on-demand service on the official website of RemSupp and generate a permanent session code.
Copy the permanent session code from the website and paste it on the 'Permanent Access tab' on the RemSupp App.
Configure permanent new access as soon as you paste the code. Remember, this access can be revoked at any time.
Following the above step, your desktop will be connected to your account, and you'll be able to access all remote data with full keyboard and mouse control.
Thus, RemSupp utilizes some of the best strategies to provide you with the finest features.
Evaluating RemSupp
Every story has two sides, similarly, every product or service has pros and cons. Some of the pros and cons of RemSupp include:
Pros
On-demand assistance – The quickest method to assist someone, on-demand assistance, allows you to invite people to participate in a remote support session by just clicking a simple connect button. It not only resolves difficulties but also makes the device more efficient.
Ongoing access – It configures remote devices to have permanent (always-on) access, sorting and grouping them according to location or department so that remote sessions can be started anywhere, anytime.
Collaborative exploring – This allows you to share the screen of your online app in real-time without installing any additional software.
In addition to the above, the following benefits also be extracted with RemSupp:
Has options for third-party plugins and external integrations.
Intercom may be used to send invites directly.
Improves client service.
Helps obtain a live screen share.
Cons
Lacks a 2-factor authentication and batch permission or access.
Does not support social media integration and Google Apps integration.
Lack of Click-to-Dial and Real-Time alerts.
The free edition has no contact sharing options for the computer dashboard's user interface and no data visualization, which is to be expected given that it is a fundamental and free service.
Slightly slow Supplier and Workflow management.
Your remote access genie – RemSupp remsupp.com/ via @supermonitoring
Conclusion – Final Verdict
If you're looking for a simple solution to help you increase your company's customer satisfaction rates and aiding efficiency, while allowing your employees to access gadgets (laptops, tablets, phones, and computers) remotely; RemSupp is the ideal application for you. When used in combination with Intercom, it can help you immensely to streamline and elevate the client communication experience.
Get notified about our new posts
By submitting this form I accept the
Privacy Policy
and I agree to receive blog-related information from Super Monitoring.