Crank Wheel – Instant Screen Sharing at Its Best
How many times have you missed out on important emails or notifications, and then faced telling off by your seniors? Yes, we've all been there. And though it may sound like a minor issue to some, in professions like sales, this can really hurt business. Managers face similar issues as well where they often miss out on adding key members for ad-hoc meetings or weekly sessions.
Additionally, in several business operations, it's really important to convey visual information to clients as that way the human brain can retain more as compared to the written or spoken word. This is where a screen-sharing tool works wonders. A screen sharing tool can be one of the best ways to enable better collaboration between the teams.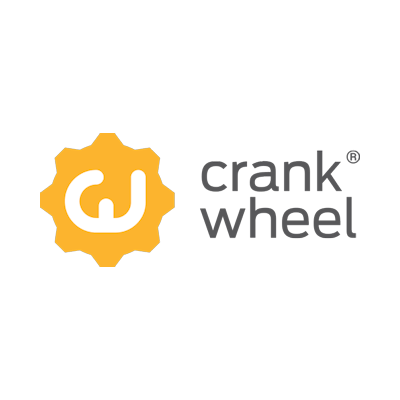 Crank Wheel is one such instant screen-sharing tool that can change the hard-to-reach prospective in your team. In this article, we'll not only discuss the tool but also let you know how you can effectively work around it.
Crank Wheel – A Sneak Peek into the Tool
Crank Wheel is an easy to use, customizable, and completely hassle-free tool that cuts the sales cycle in two halves with an instant-screen sharing feature. It enables you to drive higher engagement and generate more leads by sharing digital prospective to the customer and interact with your sales team.
Here are some of the prominent features of the tool.
Real-time view
Specially designed for managers working in the sales profession, the real-time view will help you measure the performance of your sales team. It performs various other functions like conference calling and live presentation by which you can share the product presentation with your customers in real-time. The live preview function will also allow you to keep your customer's attention intact by showing them where you're zooming in so they can react accordingly. Also, with targeted sharing, you can control the content of the browser tab, program window, or entire screen to keep your interaction professional.
Remote control
Another important feature of this tool is that you can grant your viewer a remote control over the actions. It comes with a very intuitive well-known control feature that can be used to access desktop or laptop computers remotely. You can also choose what you want them to take control of. It's completely secure in design and can end with a single click on a hotkey or an on-screen button.
Instant demos
If it's really hard for you to find out an agent to generate inbound leads, you can try the instant demo mechanism feature. You can generate more leads by customizing conversational forms that can be shared via e-mail campaigns or dropped on the website. There's no need for an integrated sales enablement application to answer website-generated leads. It adds the "call me now" or "request a demo" button to your website automatically. It also provides relevant information about the lead and creates a fuller CRM record for you.
Screen-sharing from anywhere
It works on all conditions whether it is a bad network, obscure device, or any old browser. Unlike other tools, it requires no installation or plug-ins to work.
Completely Secure connections
This tool is secured with enterprise-grade SSL encryption and expiring screen sharing session links which keeps your presentations seen only by the intended audience.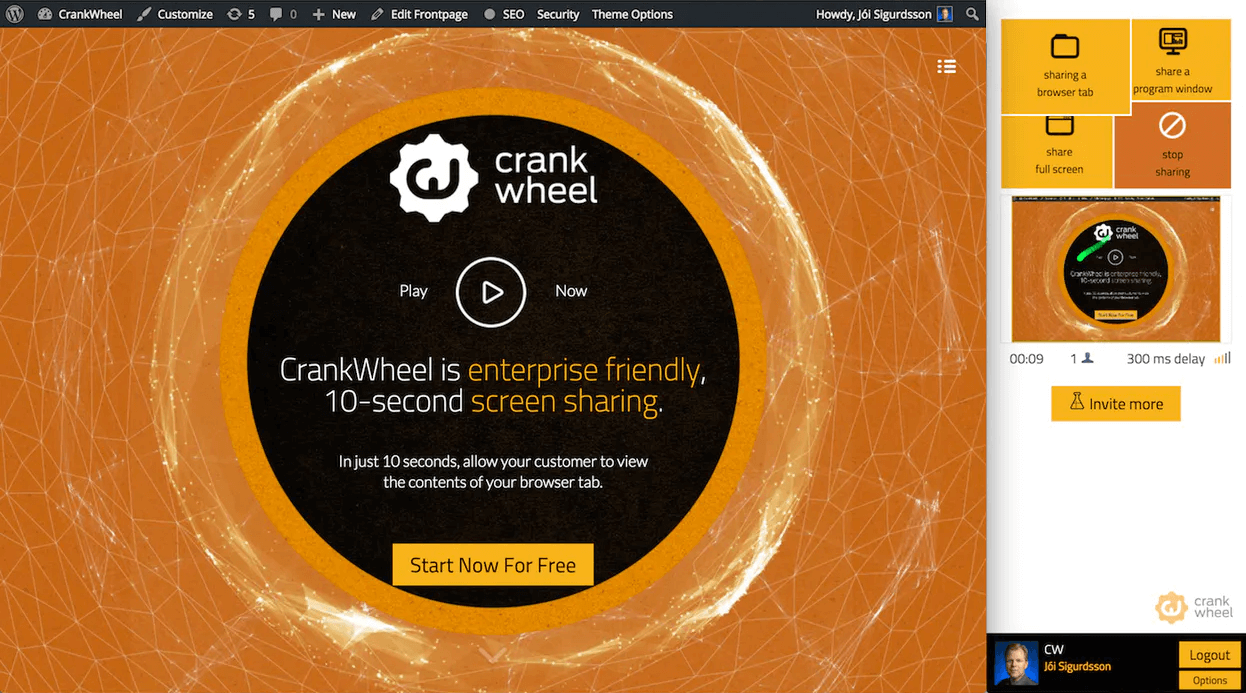 How it works?
It's very simple to get connected your customer with the Crank Wheel. It's completely free if you're being shared a screen but you will need an account to share yours. With a single account, you can share with up to 300 participants simultaneously. To get started with Crank Wheel, follow the following steps.
Step 1: Head to their website and click on the 'Create a free account' button on the bottom of the homepage. You'll be redirected to a signup page where you have to provide your email to start the process.
Step 2: Once done, they'll send you a link on your mail to proceed with the registration process. Click on the link received and finish the registration with some optional steps mentioned by them.
Step 3: In the end, you'll be asked to add the extension to your browser. Now you can skip the above steps if you just need to receive a shared screen from others. But you might as well sign up since the account opening doesn't charge you with anything.
Step 4: Once added to the browser as an extension, you can customize the interface with options between Full-screen, program window, and browser tab or just skip the steps to get started with default settings.
Step 5: Once you're ready to share you just choose the monitor you want to share. Now for sharing the content two approaches can be used to connect with your customer, either by mobile number or by email id.
Step 6: If you want to connect your customer by entering their mobile number just simply type their mobile number on the given space and click send. Your customer will receive a text message enclosed with a link by which they can connect with you. You'll receive a notification of connection and on the right side of the screen a preview screen so that you can monitor what they're looking at.
Step 7: For connecting via email you have to type the email and click send. This will send a pre-composed email with a link to connect. Or you can ask your viewer to type a public link customized to your company.
Step 8: You can also switch between the screen types at any time during the screen sharing.
CrankWheel Screen Sharing Brief Product Video Demo:
Evaluating Crank Wheel
Pros
One of the important features that differentiate it from other tools is it allows the user to exchange whatever is open on the screen. This comes in the option of sharing the program window.
It provides accessible support from mobiles too. You can share or view screens from your smartphones as well.
It provides unlimited sharing with free of cost.
Provides support with emails to the users.
Easy to learn interface.
Easy to track activities with an audit log.
Cons
Registration on the tool is important. You cannot access it without registration on the website.
There no feature of communicating via messaging during sharing.
Share screens instantly and collaborate better with @crankwheel crankwheel.com/ via @supermonitoring
Final verdict
First-hand quick interaction with the customers is very important in businesses. To keep the customers intact with your product, active engagement is the key. It will keep your business alive in the mind of customers and decreases the dissatisfaction level. Crank Wheel screen sharing will provide you a platform where you can interact with your customers and let them know what to do. The features of this tool will keep your client update and encourage an active collaboration.
Get notified about our new posts
By submitting this form I accept the
Privacy Policy
and I agree to receive blog-related information from Super Monitoring.