Monitoring Organizations: Groups Keeping an Eye on Things
Websites are the primarily drivers of many businesses, so a company will often hire a service that monitors websites to respond to and limit downtime. Property managers need to be made aware of break-ins, fires, and elevator malfunctions in a timely manner, leading many to use an alarm monitoring service to stay in the know.
Consumers, businesses, and governments all recognize the importance of reliable monitoring in many areas of society and commerce. For this reason, perhaps just as many companies, organizations, and inventions have been created to observe, detect problems, and keep interested parties aware of relevant details.
The following are a few interesting or significant organizations whose job it is to monitor various resources, assets, activities, and locations.
ECHELON
In short, ECHELON is a spy system that monitors and analyzes all telephone and electronic communications sent virtually anywhere in the world. It was created by the United States National Security Agency (NSA), in conjunction with their British counterparts, during the Cold War for intelligence gathering purposes.
Although the Cold War has since thawed, ECHELON continues to operate – now aided and utilized by Canada's Communications Security Establishment (CSE), England's General Communications Head Quarters (GCHQ), Australia's Defense Security Directorate (DSD), and New Zealand's General Communications Security Bureau (GCSB). These nations had agreed to share signals intelligence during the Cold War under the UKUSA Agreement, a treaty which had remained a secret until fairly recently.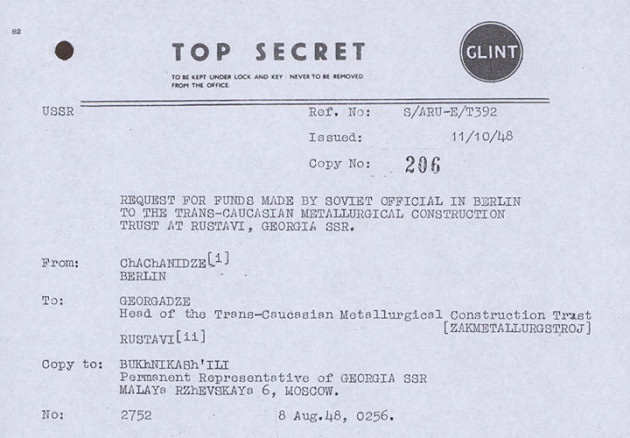 Intercepted Soviet intelligence, from a set of UKUSA Agreement files released by the NSA
ECHELON can intercept communications via radio, cellular, and microwave signals and satellite transmissions; however, it can be assumed that these have become less of a focus for the system's operators, as more voice and data is carried over fiber optic networks. Due to the nature of the system, details related to its operation are largely unknown – even by government officials in member states. Speculation as to how ECHELON works has even led to a report by the European Parliament in 2001.
Kimberley Process Certification Scheme (KPCS)
The Kimberley Process was designed to monitor and combat the trade of what are known as 'conflict diamonds', uncut stones which finance rebellions and warfare in diamond-producing regions of Africa. The process attempts to keep these so-called "blood diamonds" out of the world's mainstream diamond market. The process has many steps and policies to verify the origins of diamonds, although a number of criticisms have been levied against it.
Kimberley Process participants have to abide by certain requirements in order to certify rough diamonds as being "conflict free". These are more than 'guiding principles', as member nations must enact a number of controls which include legislation to monitoring institutions to ensuring transparency. In addition, the KPCS prohibits members from trading with anyone outside of those who have met the scheme's requirements.
There are currently 54 participants in the KPCS, although Venezuela voluntarily suspended its own import/export of rough stones. In addition, an embargo was placed on diamond exports from Ivory Coast (a KPCS member) in 2005 to prevent unauthorized funding of arms purchased during their civil war. However, the country is trying to get the ban lifted, now that the war is over. This makes sense given that virtually the entire world market for diamonds is comprised of KPCS member nations.
National Earthquake Information Center (NEIC)
Whenever there's an earthquake, anywhere in the world, chances are that it will be detected by the National Earthquake Information Center. Headquartered in Denver, Colorado, the NEIC is part of the United States Geological Survey (USGS). The center was founded in 1966 and its primary mission has been threefold:
Determine the location of significant earthquakes across the world accurately, dispatching this information in a timely manner to all relevant scientists, organizations, facilities, and individuals worldwide.
Maintain an extensive seismic database for scientific research, providing open access to both scientists as well as the public.
Promote research to understand earthquakes and improve our ability to locate them when they occur, allowing us to reduce the risks they pose to humanity.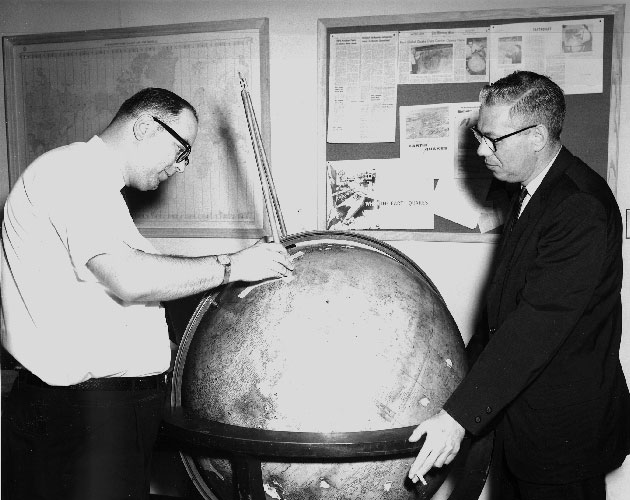 NEIC analysts locating an earthquake in 1965 (photo courtesy of USGS)
Whenever there is an earthquake or other seismic activity, NEIC staff is frequently quoted in the media reporting their findings or explaining details related to earthquakes. In addition to readings it collects from measuring instruments, the organization also gathers reports from other agencies and members of the public.
The Environmental Protection Agency (EPA)
The Environmental Protection Agency (EPA) is tasked with promoting the health of the American public by protecting U.S. soil, air, and water from pollution. An important part of carrying out this mission includes monitoring various environmental factors and the EPA has many different systems in place to do just that.
Here are a few examples:
RadNet monitors radiation via more than 200 stations across the country and its territories, using samples taken from a variety of sources including rainwater, the air, and even milk.
The agency performs a wide variety of surveys, including the National Wetland Condition Assessment, which, as the name might suggest, helps them monitor the current quality of the country's wetlands.
The EPA even has a Volunteer Monitoring Program that encourages volunteers to observe environmental conditions and measure local samples of water.
This article was written by Alex Legrand of Instant Answering Service. For more information about IAS and their services, please visit www.answeringquick.com.
Get notified about our new posts
By submitting this form I accept the
Privacy Policy
and I agree to receive blog-related information from Super Monitoring.