Coupler.io: Your Business Data Analytics and Automation Solution
Companies no longer question the importance of data analytics for their business success. With the help of data, brands can predict business outcomes, detect purchasing patterns, track customer behavior, and improve overall decision-making. However, many organizations still struggle with implementing the needed steps for robust data analysis. They often lack the time and expertise to use data to its fullest potential.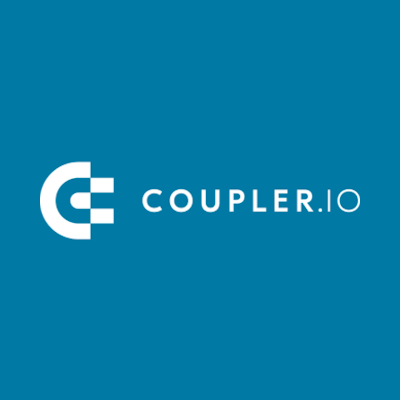 If you've also faced the challenges of gathering and analyzing data, you might enjoy getting the hang of a data automation platform we will review today – Coupler.io.
Overview
Coupler.io is a full-scale platform for data analytics and automation. It has a plethora of features for manipulation of business data. It was designed for the intuitive automation of data flows so that users can gather, transform, analyze data, and create insightful dashboards or reports for their specific needs.
Let's examine the key features this platform offers.
Features
Data integration
Coupler.io enables you to automatically gather data from apps in one place to see the whole picture. The platform provides over 60 data sources, which are popular solutions like Airtable, Facebook Ads, Salesforce, QuickBooks, Trello, Shopify, HubSpot, and more. Additionally, users can request and benefit from data integrations with Premium sources like Amazon Ads, Intercom, Google My Business, or others.
Regarding data destinations, you can import data to one of the platforms – Google Sheets, BigQuery, Microsoft Excel, or Looker Studio. Setting up automated refreshes to keep track of the most relevant data is also possible.
Data transformation
There is a Transform module that allows you to edit your data in Coupler.io in real-time before importing it to the needed destination. You can rename and reorder your data as well as edit columns by sorting out your data with advanced filters. Finally, the platform provides you with an opportunity to tailor formulas for fast, automatic calculations: from simple add/subtract formulas to more advanced formulas like if/then calculations.
Data analytics
Using Coupler.io, companies can leverage their data analysis and obtain valuable insights. Since the platform allows you to gather and synchronize data with many tools, you can analyze your business data. Results of marketing campaigns, the performance of the sales team, accounting, projects progress, and many other areas are easy to track and improve when you have fresh data provided by Coupler.io. The tool can save time with preparing data, reporting, and sharing reports with stakeholders or across teams.
Data visualization
To better see the whole picture of the analysis, users can try dashboards and templates by Coupler.io. You can visualize your data fast and easily with Coupler.io. For instance, you need to check Google Ads performance. With Coupler.io, you can create a custom dashboard or use a template to monitor conversions, click-through rates (CTR), impressions, and the amount spent on ads.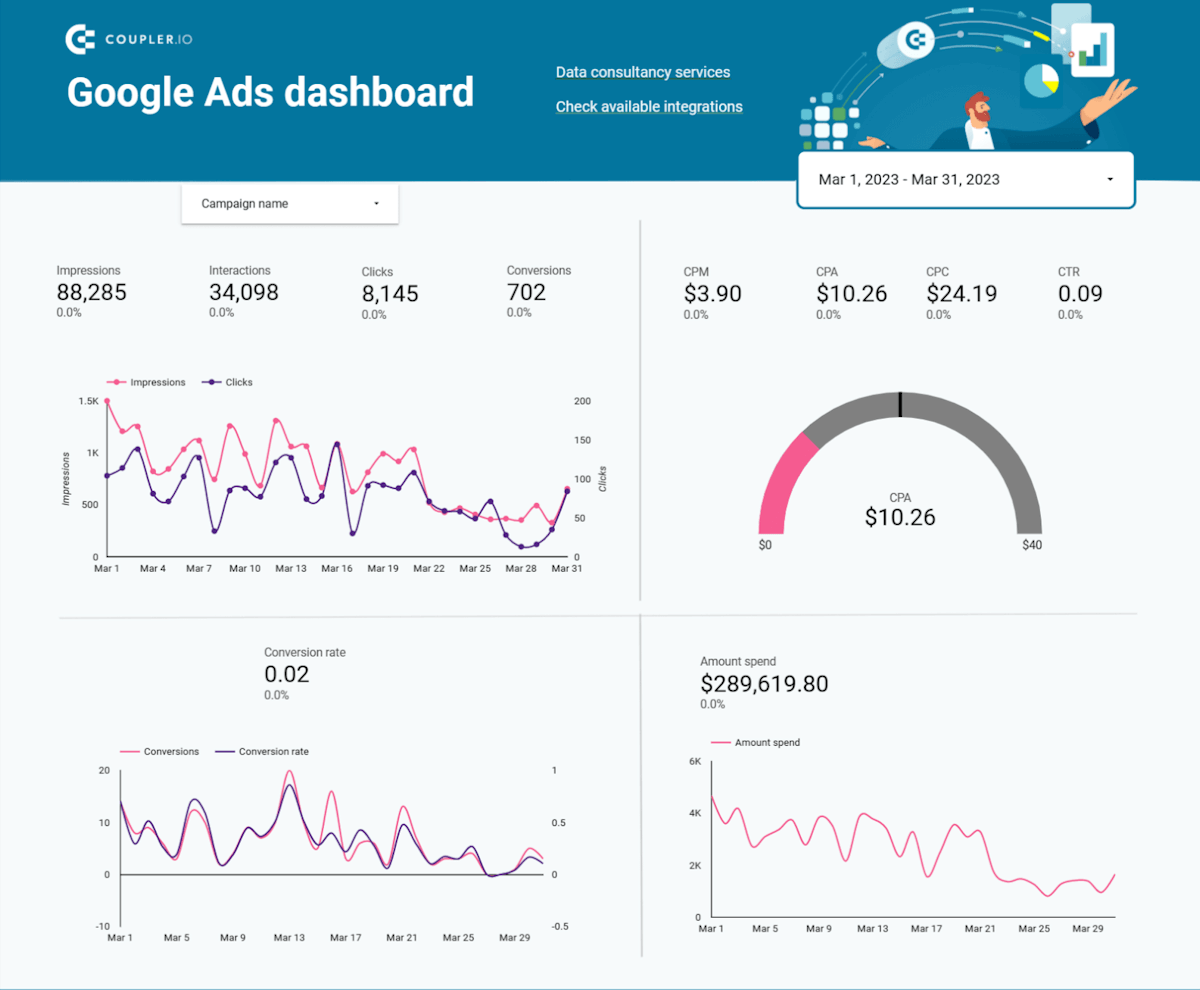 Who needs Coupler.io
Coupler.io was designed to serve companies of any size and industry. The same relates to business roles. The platform suits marketing and product teams, accountants, data analysts, ecommerce business owners, and other experts.
For example, marketers can use Coupler.io to create dashboards and reports displaying the performance of marketing campaigns. Data analysts can benefit from webhooks and vast data automation options. These will help to synchronize, stitch, and transform data without coding. Product managers can easily monitor project progress, performance KPIs, spending and detect trends.
So Coupler.io can be useful for any business or person who needs to:
eliminate monotonous and repetitive tasks
leverage reporting
collect and transform data sets
track projects and activities
have a data backup
monitor essential metrics in one place
Coupler.io strengths
Comparing Coupler.io to other data automation and analytics platforms, it has a few distinct strengths one may enjoy.
All-in-one platform
A solid advantage of Coupler.io is that it's a one-stop-shop platform. Being able to pull data from different apps and merge it into one destination is a real-time-saver. There's a wide range of tools and integrations, so for instance, you can easily collect ads from LinkedIn, Instagram, and Facebook and bring the data together into a single report to compare and share with stakeholders.
The platform keeps expanding its integrations, and Coupler.io 2.0 has over 280 integrations to leverage data analytics in one place. Besides collecting, transforming data, and creating automated data flows, you can visualize data. So the single platform gives a user functionality of an ETL tool, reporting solution, and visualization software.
Simplicity of use
Coupler.io is a no-code solution with intuitive UX/UI. So you don't have to be a data engineer to set up data connectors and build dashboards in Looker Studio. You can set up connectors in a step-by-step guided process that takes a few minutes.
Surely, it will take some time to learn how to use the platform, and some people may say it takes longer than expected. However, there's expert help and individual guidance from the team along the way.
Pricing
You can try the platform for free for 14 days and then choose the most suitable plan for your needs. Coupler.io is a great solution in terms of pricing. It has four subscription plans with a set cost, while other tools usually are a bit more difficult to grasp how much your data analytics will cost. The rates mostly depend on how much data you need to gather and analyze per period. If paid annually, Coupler.io pricing plans are:
Lite $19 per month
Starter $49 per month
Squad $99 per month
Business $249 per month
Annual billing saves users up to 25%. The higher the price, the more features you'll have: more users, more data runs and faster refreshes, and compatibility with more integrations.
Custom integrations and data consultancy
Another strength is the ability to customize your solutions with the Coupler.io team. For example, if you need to connect data from an app that is not integrated with Coupler.io, the team can help you connect your source and blend the data into one place. You can also get tailored automations and notifications for your specific needs.
Have you had any difficulties creating dashboards or choosing the right set of metrics to analyze? The data consultancy team can help you customize a solution according to your data analysis needs. You can ask for expert data consultancy services to craft custom dashboards, analyze data better, and get on the right track in data automation. No matter your plan, you can also ask for additional consulting services starting at $120 per hour.
Coupler.io cons
Based on users' reviews available online, there are two cons of Coupler.io. Firstly, some people admit that Coupler.io lacks data sources and destinations. But as I mentioned above, the product is growing, so the number of integrations increase constantly. Besides, an option to build a custom integration is available.
Another thing mentioned by some users is that the platform has a longer learning curve as it was expected. Even though it's a no-code solution, users need some time to learn to set up the connectors and use the full capabilities of Coupler.io. This challenge is addressed by the onboarding calls and 24/7 real-human customer support, always ready to help a user.
Final words
Coupler.io provides robust solutions for businesses in any industry, of any size, and of any experience in data analytics. You don't need to have an in-house data analysis team, as this platform offers a user-friendly interface, an intuitive learning curve, and friendly support.
It's a solid choice for organizations that need in-depth and comparative analysis of data from various sources.
One can gather and blend data into one place to overview the activities and performance and make data-driven business decisions. Making critical decisions is easier when you have a data automation and analytics platform like Coupler.io by your side.
---
About the Author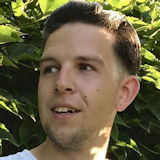 Dmytro Zaichenko is a Marketing Specialist at Railsware, a product studio. He has over 3 years of experience in digital marketing, particularly in SaaS. Apart from experimenting with marketing tactics, he's a huge NBA fan.
Get notified about our new posts
By submitting this form I accept the
Privacy Policy
and I agree to receive blog-related information from Super Monitoring.
Leave a response: