CloudTalk – Call Center Management Tool for Sales and Customer Service
No matter the size, every company has to communicate with their customers – some need just to handle occasional questions and issues while others make and answer calls daily. But both can agree that customers' expectations are increasing drastically, and living up to those expectations becomes more and more difficult. Consumers don't just want a fantastic customer support experience over the phone – they want a similarly excellent interaction with a company no matter which channel they pick.
However, a powerful cloud calling platform can make living up to and exceeding the expectations far easier – and CloudTalk is one of the systems that are perfect for this task.
Never heard of it before? This review will make you a bit more familiar with CloudTalk as we'll show you what you should know about it and how it might be useful for you.
What is CloudTalk?
CloudTalk is a cloud call center platform designed for small and medium-sized businesses, so they could deliver fast and relevant customer support to their clients whenever they need it. Their main asset is their flexibility – the platform can be tailored to work with companies of all sizes and industries and fill all the specific needs and requirements of each company.
As CloudTalk works from the cloud, there's no need to install any software or buy additional hardware, as might be the case with on-premise tools – all that's needed to start working is a stable internet connection. If you have any problems with migrating from a different system or setting a new call center from scratch, you can reach out to a very helpful CloudTalk support team to ensure the platform works the way you want.
Call quality is also one of their main shining points, frequently mentioned in reviews. Instead of relying on a single telecom partner, CloudTalk has registered itself as an operator in multiple countries and built relationships with Telecom partners worldwide to ensure HD quality even with overseas calls, without jitter or latency issues. The call quality is also regularly monitored – if it drops below a certain level, the call route will be automatically switched for a better call route.
Another advantage of CloudTalk is the number of advanced calling features they have – from customized call greetings to contact tags and IVR menu, skill-based routing, and smart dialer. There's also a multitude of features useful for the agents, like adding notes to any call, ACW, desktop notifications, and warm transfer, to make their daily work a bit easier.
To further improve its capabilities, CloudTalk can be seamlessly integrated with over 25 tools – from CRM like Pipedrive and HubSpot to e-commerce platforms such as Shopify and Magento to Intercom and LiveAgent help desk software. In case that's not enough for you, CloudTalk also can be integrated with external applications through its open API or integrated with over 2,000 Zapier app – all so you wouldn't have to change the tools you use daily.
But despite the numerous features inside it, CloudTalk dashboard isn't cluttered and confusing – learning how to use the tool is fast and intuitive thanks to the extensive onboarding and various tutorials and guides available in their knowledge base. As proof of that, CloudTalk got awarded by Capterra the "Best Ease of Use" award in 2020 in the Cloud Communication Platform Software (2020), based on the ratings and reviews from its users.
CloudTalk pricing
As CloudTalk is a cloud service, the costs are brought down to a monthly subscription starting from a $20 starter plan.
The basic plan gives an unlimited maximum number of users right at the start, unlimited inbound and internal calls, and also various useful features, so this might be a perfect system for small companies that want to start calling from the cloud. But what if they begin to outgrow the starter plan? In a matter of minutes, they can move from the starter plan to either Essential, Expert, or Custom plan and gain access to a myriad of advanced tools such as personalized greetings, detailed analytics call masking, or workflow automation.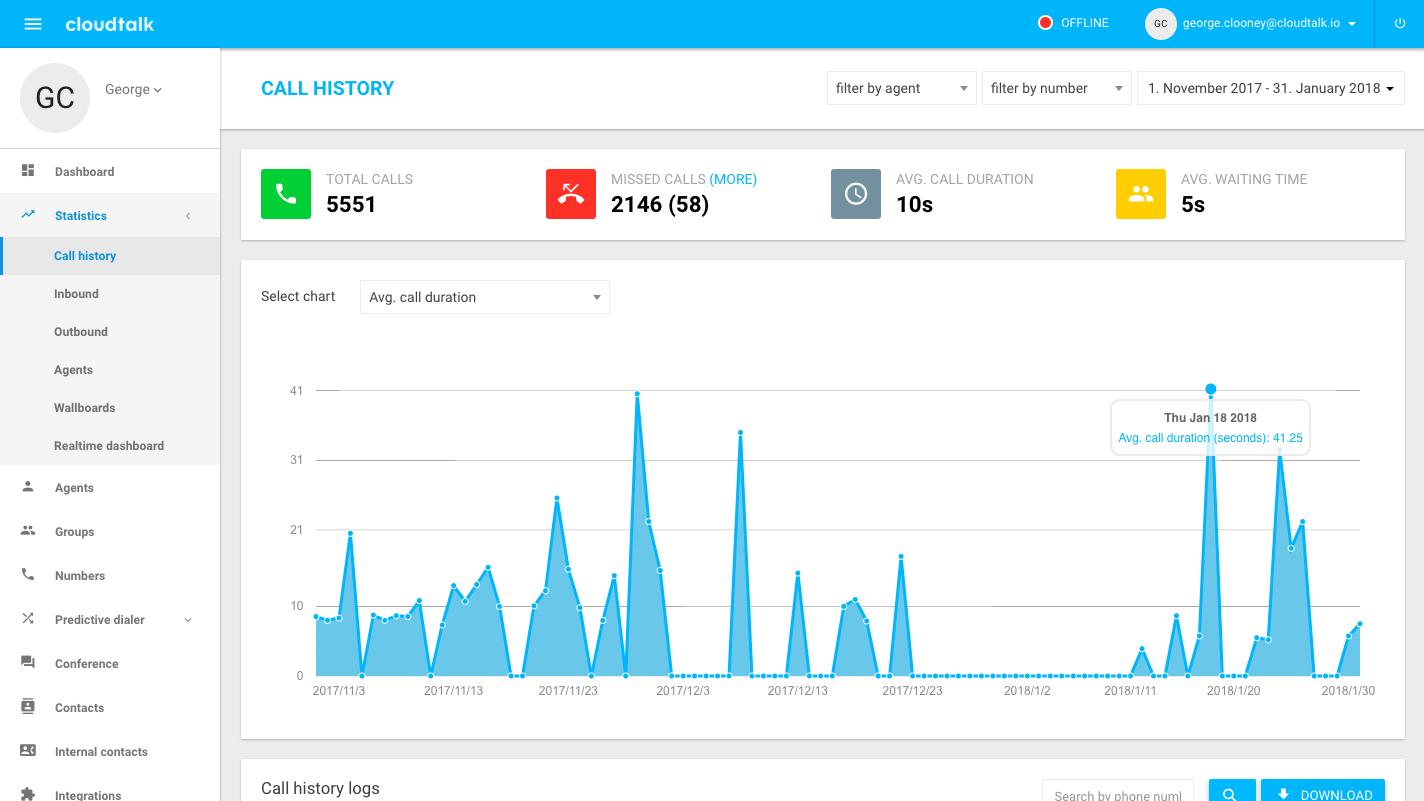 Top 10 CloudTalk features
Call Recording – Get all calls recorded and stored inside CloudTalk database. Once the calls end, you can access them whenever you need them.
Call Queuing – Incoming calls can be automatically sorted into queues based on the pre-defined rules and then directed to the right agent.
International Numbers – CloudTalk offers international numbers from more than 140 countries that can be used straight after purchasing.
Business Hours – Inside the app, you can specify at what hours your agents are available to answer the calls. You can also add messages your callers will hear when calling outside of your business hours or add a phone number to which calls will be redirected.
Personalized Greetings – Depending on the time and situation the caller is reaching out to you; they can hear different recorded messages that will either thank them for calling and tell they will be connected to an agent shortly or one that will inform them all agents are busy and ask the caller to leave a message or wait on a line.
Call Masking – Calling masking feature will cover your and your agents' phone number with a temporary one to protect your personal data.
IVR Menu – With an interactive voice response menu, your callers are guided through different options to help them find the right department and agent for their question or issue. IVR menu can also give relevant information to the callers, such as office hours.
Ring Groups – Ring groups help shorten agent response time as whenever there is a call, all agents or only agents belong to a specific department will be notified, and the first agent to respond will be connected to the caller.
Emotion analytics – This one feature allow you agents to rate the mood of the caller during their whole conversation simply by using the available emoticons.
Various languages available – CloudTalk app is currently available in English, German, Spanish, Portuguese, French, Slovak, and Czech language.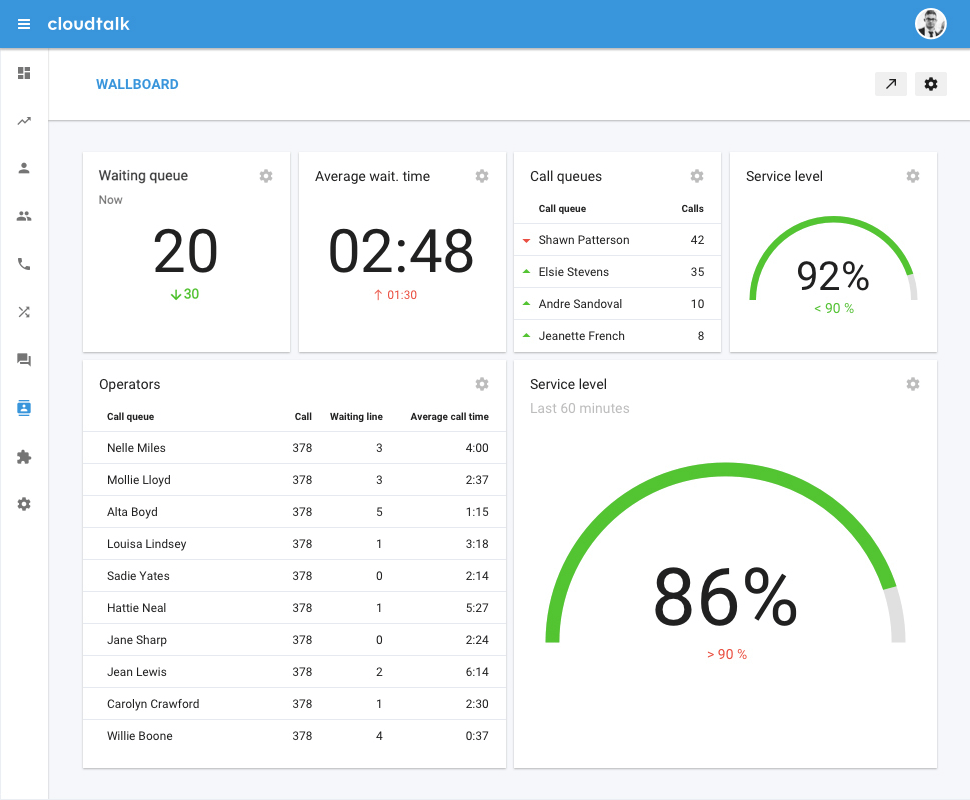 What are the pros of CloudTalk?Pros

CloudTalk is easily scalable – whether companies need a tool for a small business or a busy call center, CloudTalk can be tailored to match their expectations perfectly.
Setup is a breeze – There's no need for additional hardware or IT technician help, as all you need to do is pick whether you prefer to use the app via desktop, mobile (iOS or Android), or web browser to create an account.
Intuitive dashboard – All tools are easily accessible from the main panel.
Affordable pricing – CloudTalk is available from $20 a month per agent.

Cons
Cons? It would be rather on a cherry-picking principle. One could point out that it does not integrate with all CRM, e-mail marketing or sales automation tools available in the market, but, actually, which tool does?
What could be a bit off putting for new users can be providing CloudTalk with a phone number to sign up. Bearing in mind it's a CALL center solution, though, we suppose giving a phone number away is not troublesome for professionals wanting to unleash the full potential of CloudTalk.
Conclusion
If you were thinking about starting using a cloud solution or moving your business to the cloud, CloudTalk is an excellent option both for small and medium-sized companies from all industries. Improving your customer service? Boosting your agents' productivity? Saving money on business calls? With CloudTalk, this is possible – but you don't have to take our word for it, try out the tool, and see yourself.
---
About the Author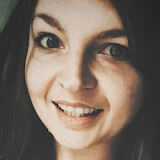 Kinga Edwards – CEO of Brainy Bees, in love with content marketing and effective PR. She believes that insights are everywhere!
Get notified about our new posts
By submitting this form I accept the
Privacy Policy
and I agree to receive blog-related information from Super Monitoring.