Chanty – A Collaboration Tool That Helps Get Work Done, Together
How many emails do you receive and send each day to your coworkers on average? And how long does it typically take for you to update your team on the progress or objectives of your tasks? You should think about changing your collaboration tools if your productivity bothers you.
There are many software solutions for team collaboration and communication. With so many alternatives available in the market, it might get difficult to choose the best one for yourself and your team.
What is a collaboration tool?
Collaboration tools are an easy idea to express, but may be difficult to define. Collaboration helps teams and organizations in cooperating with one another to achieve a common objective. But what exactly is a collaboration tool? It's an app or a software that can be used for multiple purposes including project management, team collaboration, sending across messages and fostering meaningful verbal or nonverbal communication among team members.
The definition of collaboration tools may have a lot of room for ambiguity. The most general definition of collaboration tools is that they are anything that two or more people utilize collaborating with one another. Some common features of a collaboration tool can include:
A team chat app that enables group idea-generation
An application for project management that organizes group tasks
An app for video conferences that enables face-to-face communication
A tool that distributes files and provides widespread access to material within an organization
Each feature of a collaboration tool, regardless of its purpose or nature, facilitates collaboration in some way. Out of the many options available in the market, today we will talk about Chanty, one of the most popular team chat apps. Let's take a deeper look at the main features of Chanty and how it can help your team become more productive and efficient.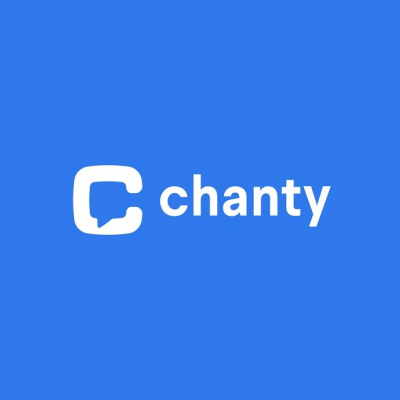 Chanty: A great collaboration tool
Chanty is an effective and straightforward team collaboration software that guarantees to boost your productivity by 55%. Alongside many useful features, it also offers to get more work done, as 75,000 companies around the world use Chanty to become more productive than ever.
It's an effective collaboration tool that can help your team as a whole to succeed every single day with their tasks by utilizing their capabilities in a more efficient manner. While different groups require various tools for multiple activities – all this still requires a cooperative strategy. This makes collaboration a key to success, making Chanty your gateway to a successful collaboration strategy.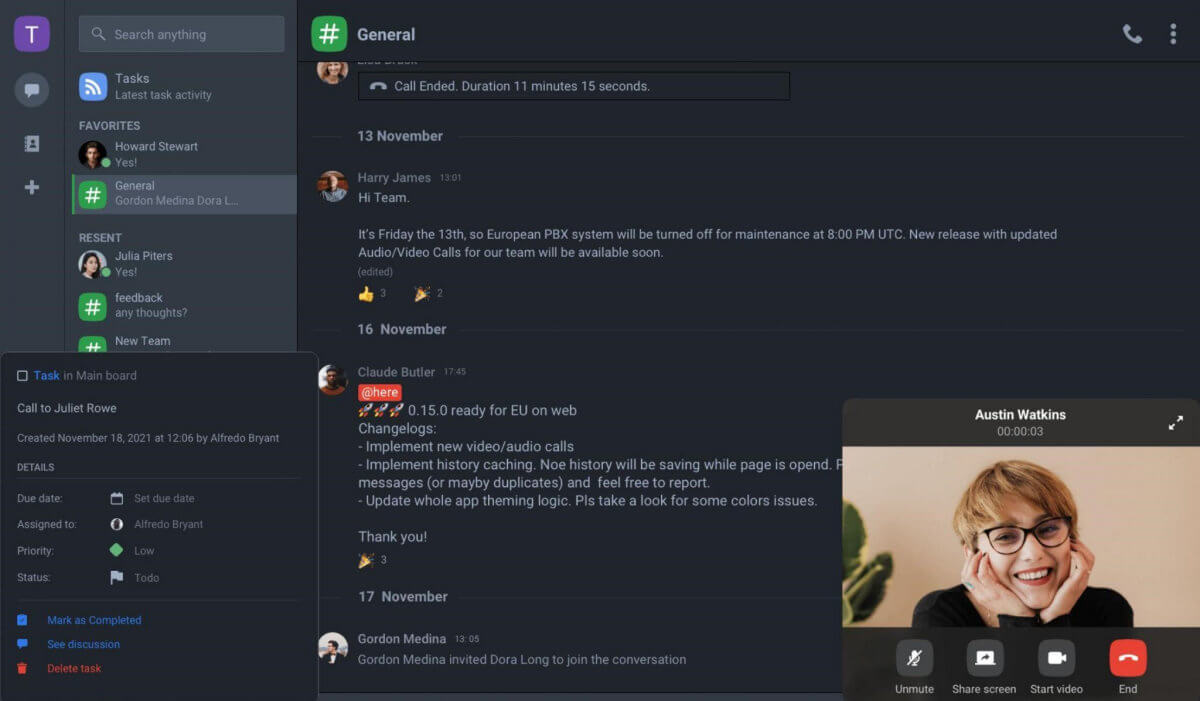 Value added features of chanty
1. Video and audio conferencing
Of course, what's the use of a collaboration tool without an audio and video call feature to it? Being face-to-face on a video makes it simpler to share the same perspective. Even if you're not face-to-face, you can still have voice calls or voice messages to share information more effectively through it. This is sure to speed up your productivity.
Chanty makes sure all calls are safe and smooth, making efficient communication just a tap away. Simply start the conversation and make high-quality audio or video calls to the entire team or specific team members. Bring your remote team together in one spot, regardless of their various time zones or locations, and redefine how you interact in real time.
2. Creating and managing tasks
You know what's interesting about Chanty? You can enjoy stronger communication with your deadline-driven team with the ability to create new tasks from scratch or transform every message into a task. Let's suppose your boss wrote a message to you, you can easily convert this message into a task on Chanty. That's not it, you can even set a due date for it and manage it according to your specific requirements.
3. Multiple integrations
With over 1200+ third-party apps integrated in Chanty, you don't have to worry about switching between multiple windows or emailing yourself data and documents from so many other apps. It can all be done under one single roof by making your life and collaboration process a lot easier.
4. Data protection
All the messages you transmit are securely protected for any external or internal use. Since no one has direct access to your databases or messages, don't worry about anyone spying on you. Chanty respects your privacy as per the requirements of the General Data Protection Regulation, as they are aware of your rights. All services, including their public website, are required to use HTTPS using TLS (SSL) by Chanty.
5. Chanty Teambook at your disposal
Just like your Rome trip, "Whatever happens in Chanty stays in Teambook". It serves as a central platform for all of your shared material, including tasks, conversations, pinned messages, and other files.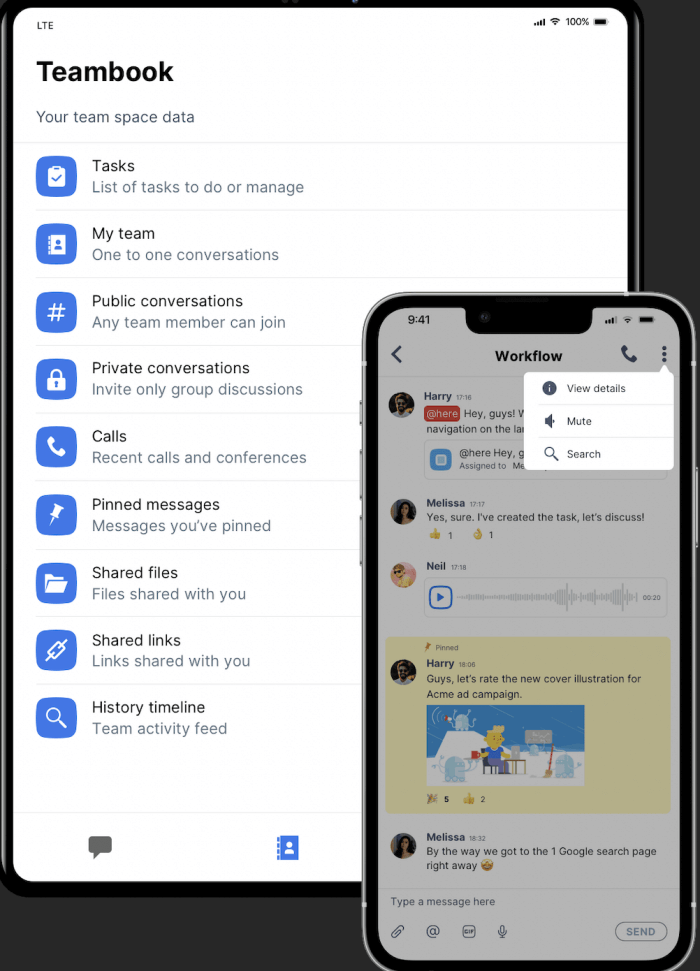 You can get rapid access to all of your message history and locate team members with ease. Additionally, you can pin messages, rename conversations, or leave them with a single click by activating conversation actions via the three-dot menu. You are in charge and are directing the discourse, whether it is in a Teambook hub or any other context.
6. Chanty extras
a. Pin important content
Chanty enables you to select the current top priority. Whether it be your fresh ideas, the newest reports, or important deadlines. Chanty will help you find time to respond to any message.
b. Share all the content under one roof
Chanty really cares about your experience on the app. It lets you share content from YouTube, Coub, and GIFs, so you can spend less time hopping between apps and watch your preferred content in Chanty.
c. Code snippets
Save time by getting your team's code updates without sending files or links. Simple code sharing can elicit an immediate response.
d. Call out members with @mentions
To receive a rapid response or give a solution on pressing issues, ping a coworker, online team members, or even the entire team.
e. Dark theme
Change the chat's appearance to the dark, high-contrast theme to reduce eye strain while maintaining attention in low light.
7. Kanban board
Take use of the scrum methodology's flexibility, visual simplicity, and ability to organize all of your work in one location. Any task or subtask can have its due date, status, priority controlled and tracked with the help of Kanban board.
8. Voice messages
Great feature is sending out voice messages instead of simple text messages. Share voicemails so that you may respond right away while traveling. Just you and your voice communicating to a team, no spell check or formatting concerns.
How to sign up?
Chanty allows its users to sign up through a very simple process. All you have to do is set up your email and voilà, you're ready to collaborate with your team seamlessly.
Chanty pricing
A free plan is available from Chanty for groups of up to ten members. The most economical choice on the market is the business plan, which starts at $3 per user per month and contains additional features.
Is chanty suitable for my team?
Chanty is used by teams of all sizes – whether you have a large or small team, it is an excellent choice for your team to enhance productivity and collaboration. However, you must see through the pros and cons carefully and see what suits your team's specific requirements.
---
About the Author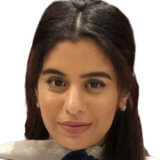 Ammara Tariq is a Marketing Manager at Chanty, a collaborative team chat, with a plan to take her team to new heights. With an everlasting love for marketing tactics, she's also very fond of research writing and hopes to spread delight and knowledge to her readers.
Get notified about our new posts
By submitting this form I accept the
Privacy Policy
and I agree to receive blog-related information from Super Monitoring.