7 AI-Driven Tools That Can Improve Content Quality
It is unbelievable how AI is changing our lives by automating some of the most tedious tasks.
Thanks to the fast development of AI technologies, the content marketing industry is changing on a daily basis.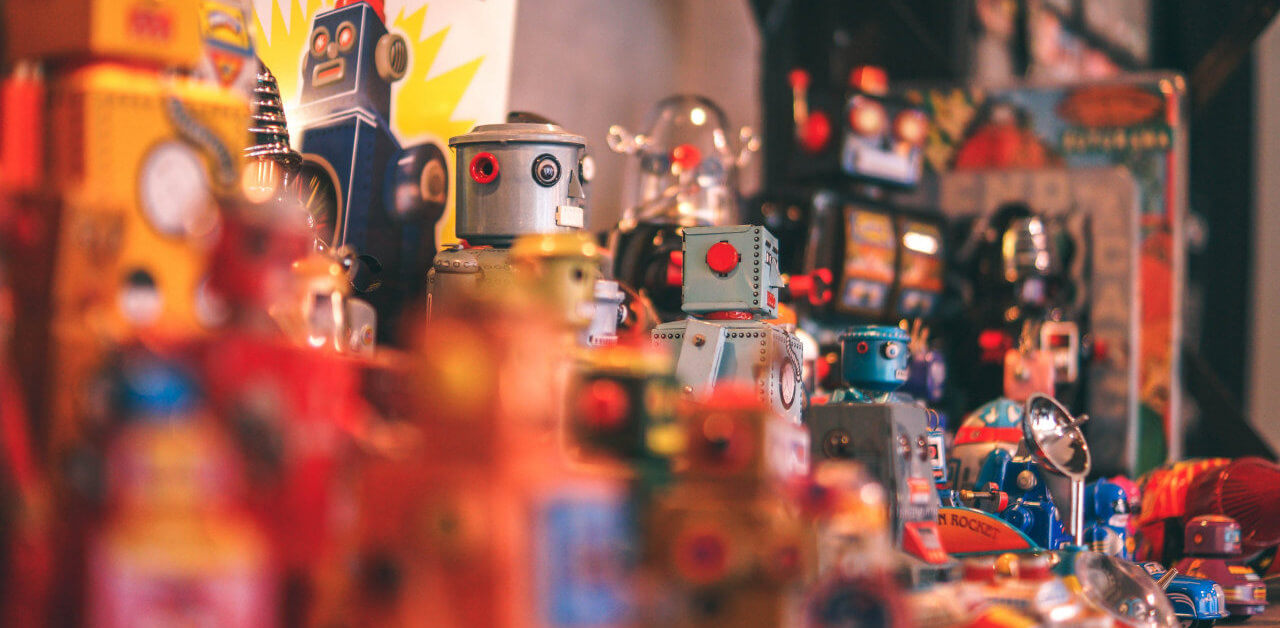 Here are 7 AI-driven tools that will help you improve your content quality:
1. ChatGPT: Write Certain Content Types from Scratch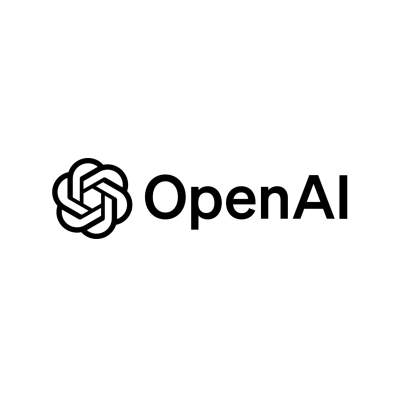 ChatGPT is a Swiss knife of generative AI: You can use it pretty much for anything. I don't recommend using it for blog posts or articles (those need to be driven by your own expertise or experience) but there are certain content types you can utilize it for:
Syndicated content: When you are reusing content elsewhere (like Medium or LinkedIn and want to avoid duplicate content issues).
Press releases: Press releases have a very dry, well-defined style which I was never able to follow. I used to outsource press releases to freelancers but it is time-consuming (requiring at least a few back-and-forth emails). Now it is just a matter of copy-pasting my data into ChatGPT. It usually comes back with a well-written press release within a second.
About pages (Including social media bios, like LinkedIn About section which can get really wordy). ChatGPT can write great content about you and members of your team. Be careful though: ChatGPT can exaggerate or make some facts up, so have your team review what it writes to fact-check.
Glossaries: Simply give it a list of terms, specify your industry and the style based on your target audience (e.g. professional, 101-style, beginner, etc.).
Video and audio scripts: Simply copy-paste your content and ask ChatGPT to write a script for a podcast or a video. You can also generate podcast scripts based on your key points or questions to be discussed.
Whitepapers: If you have data you collected from your customers or industry peers, you may simply copy-paste it into ChatGPT and ask it to write content for the whitepaper.
Newsletters: Copy-paste your data (tools, article titles, etc.) and ask it to wrap in text to use as a newsletter. Here's a detailed guide by WP Beginner on how to create an engaging newsletter for you to utilize ChatGPT in this process.
Social media posts and captions: Copy-paste your (or someone else's) article into it and ask it to create social media captions. It will include emojis and hashtags.
ChatGPT can also help with content ideation, so use it when starting to write your content to make brainstorming quicker. You can also use it to brainstorm social media content. Here are a few ideas ChatGPT came up when I used that tweet to brainstorm social media content ideas for a virtual workspace platform: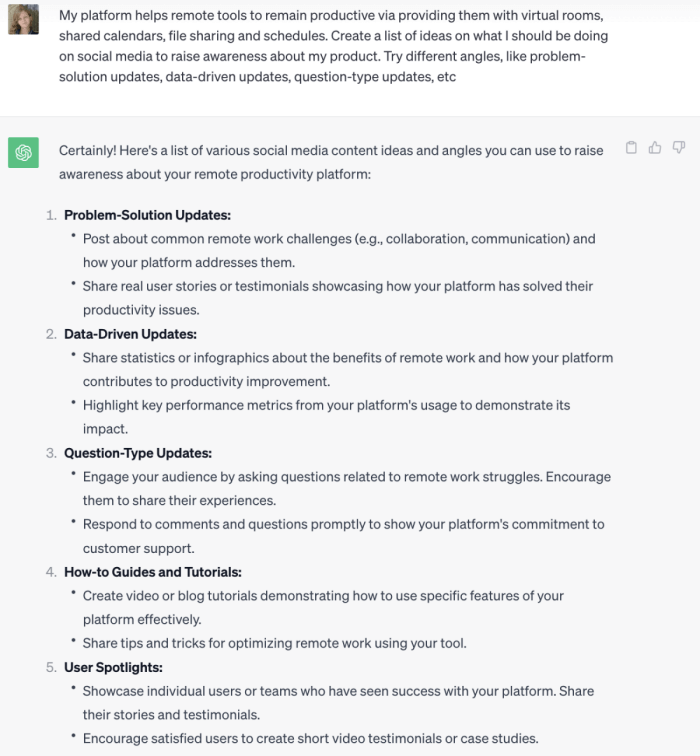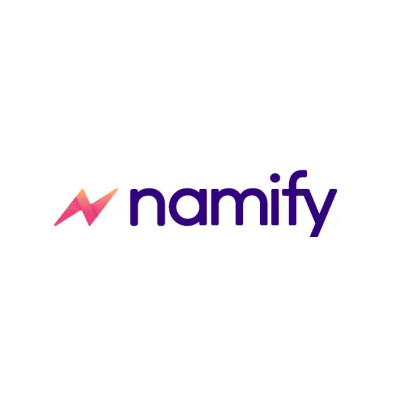 2. Namify: Define your branding
Effective branding is a crucial element of successful content marketing. Namify makes branding easy by helping you generate cool and catchy names for your new projects, channels and apps.
It will also instantly suggest branding concepts that can actually drive your content and storytelling strategy.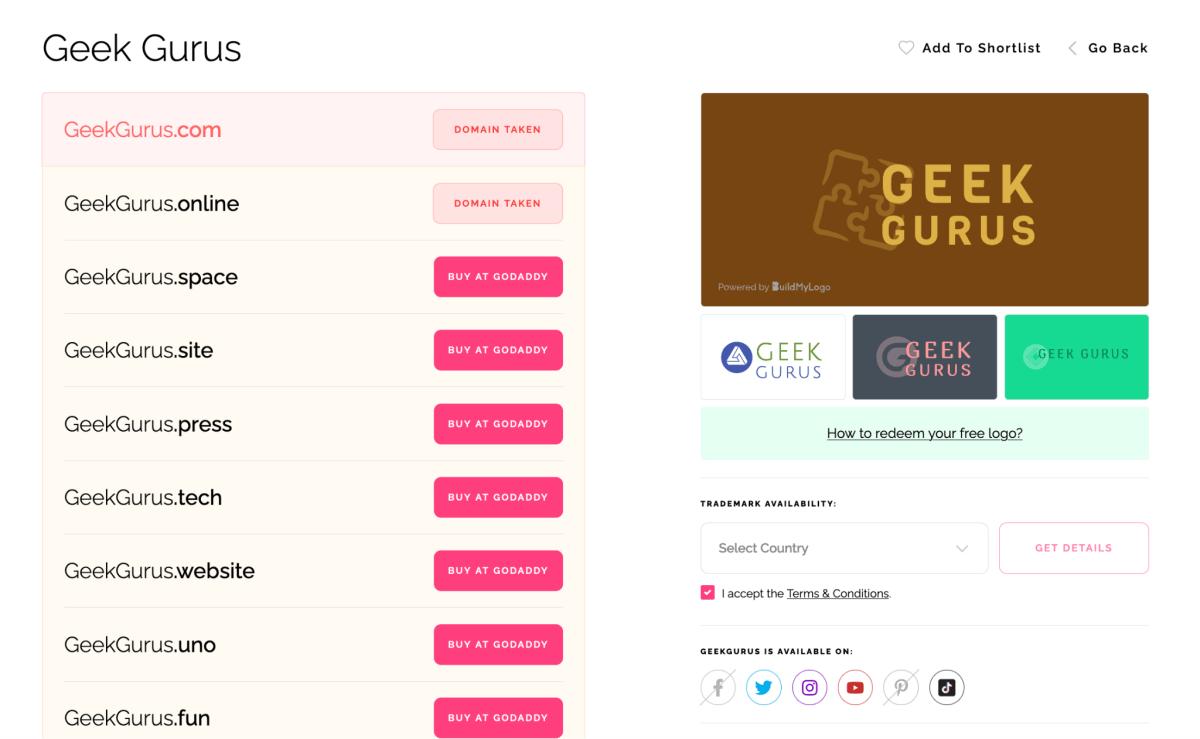 3. Coschedule: Create Better Headlines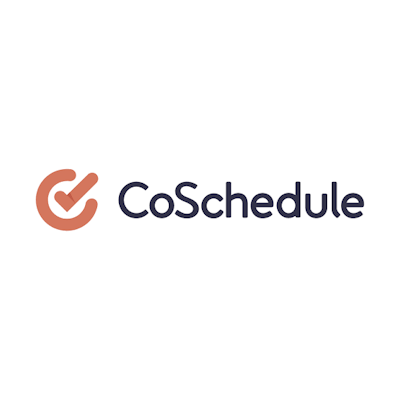 Coschedule offers a handy AI-driven Headline Studio tool allowing you to craft a better title for your copy. It has a handy system of multiple signals allowing you to come up with a better headline. Those signals include:
Whether you are using "power words" that increase click-through (there's a list of those words provided for you to choose one)
If your headline includes "emotional words" that draw attention (again, there's a list of those words)
Whether your headline includes too many common words that fail to make your headline clickable
If your title is long enough (or if it's too long)
If your title is readable and clear enough
Whether your headline passes the "skimmability" score (this analyzes how easy it is for a busy reader to find essential keywords within your headline)
It also scores your headline for SEO friendliness providing some tips on how to improve it. The tool even provides an "AI assistant" which can give you some actionable advice on how to improve your headline and AI writer which will write headlines for you.
Coschedule saves your past runs, so you can return to any of your previous headlines or have your team members review them.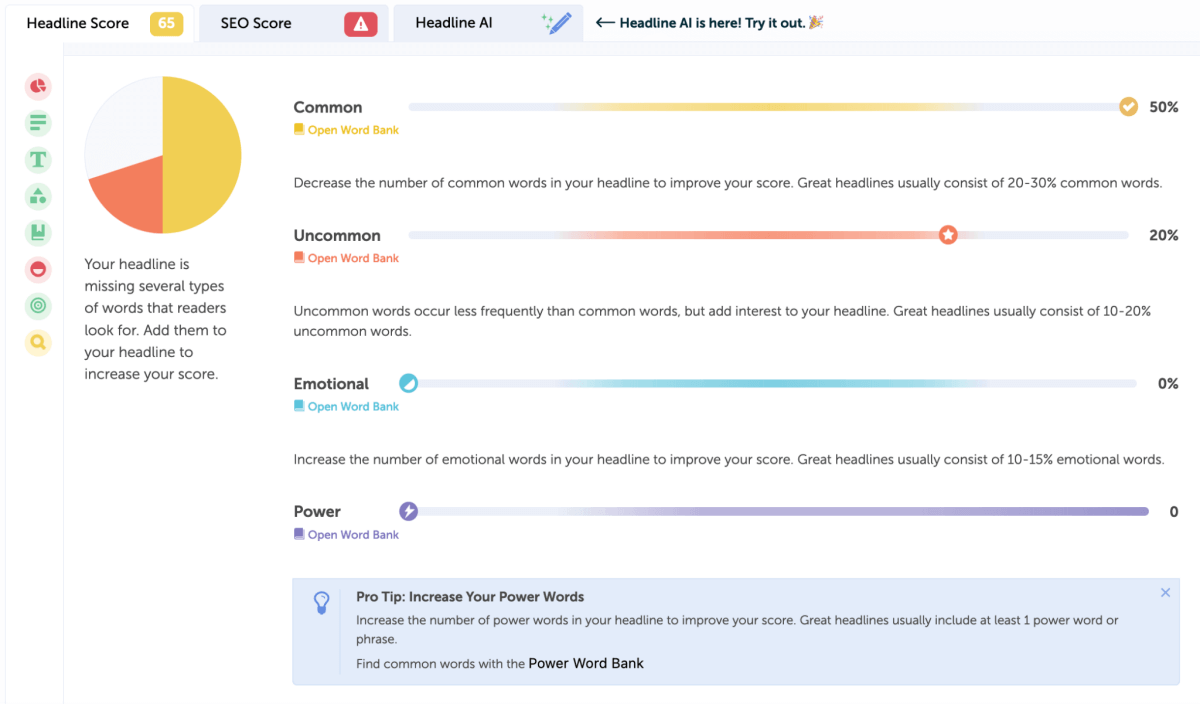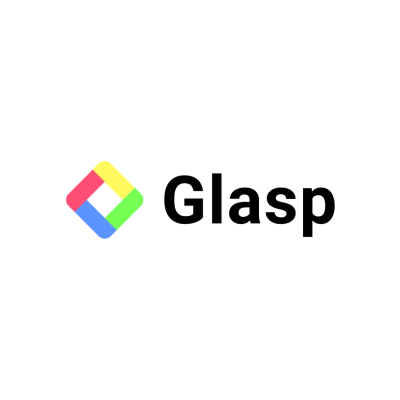 4. Glasp: Curate Content
Glasp is a web app that lets you highlight and save notes and leave your own comments from pages you are reading. Currently, it is free and only supports Google Chrome and Safari browsers.
All your notes and highlights are saved to your Glasp profile page. Use AI tools to create AI summaries of your highlights and share them as social media updates.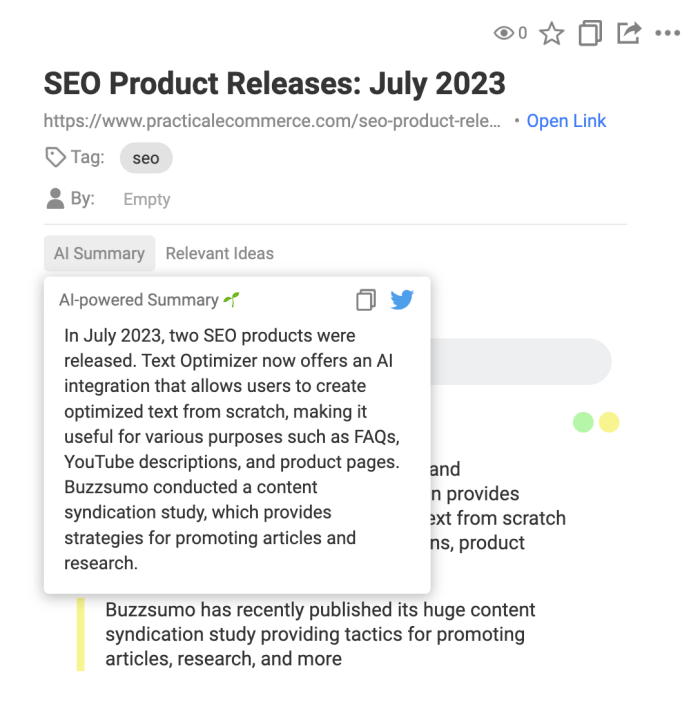 5. Gamma: Create Presentations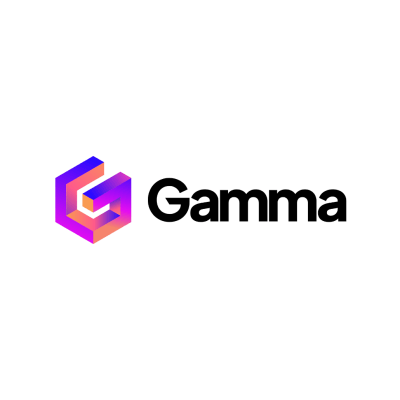 Gamma is a design app that lets you create presentations, documents and web pages. Give it a topic, review the auto-generated outline and select a theme. The tool will start generating the presentation in real time letting you watch the process.
The tool uses Bing search to find related images, so I am not sure about their copyrights. I suggest changing those to your own images. The tool only supports a PDF export. PowerPoint and Google Slides support is claimed to be coming soon.
The tool has a free plan with limited AI access. If you plan to generate a lot of presentations, its paid subscription starts at $16 per month.
Use this tool for various tasks, including:
Content repurposing (turning text content into a more visual format like presentations and slideshow-style videos)
Sales pitches
Webinar talks
Cross-team trainings
Product positioning, etc.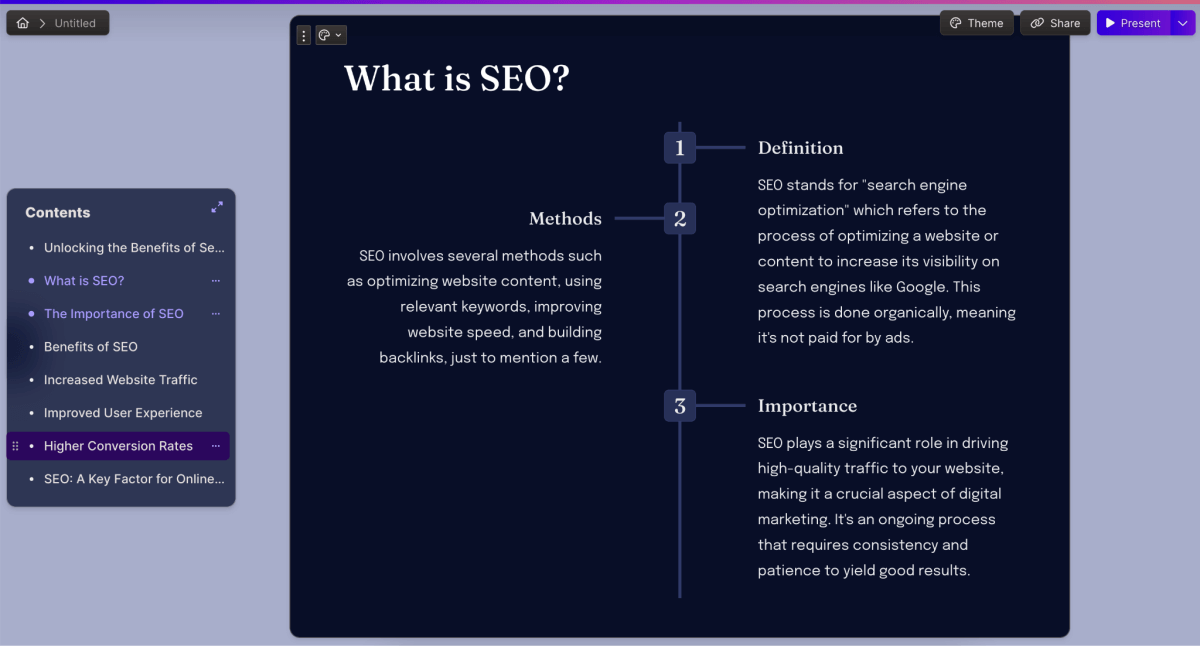 6. Perplexity: Find Content Sources
Perplexity is a search engine that, in response to your query, creates an AI summary based on various sources. It also does a good job of citing those sources.
Perplexity keeps the conversation going by suggesting relevant follow-up questions. I find it a very useful feature for content creators as you can answer those questions in your existing content on the topic making it more in-depth. These questions can also be content ideas you can answer in separate articles.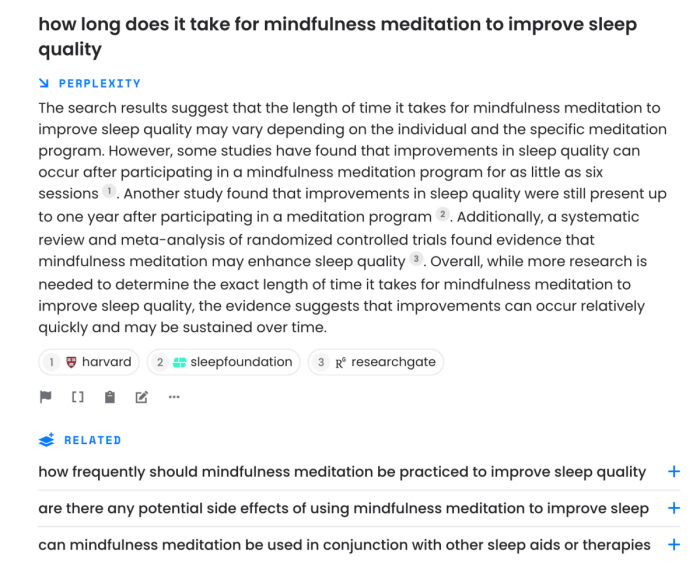 7. Waldo: Create Content Outlines and Briefs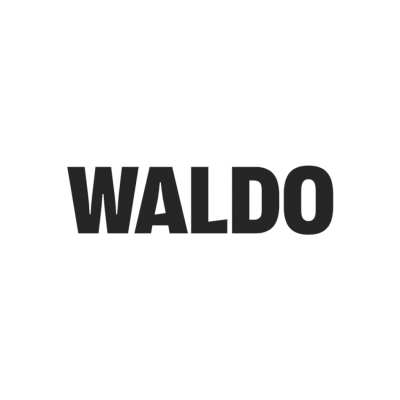 Waldo is an AI research assistant that helps you create content outlines and detailed briefs. Type your question into the search box and the tool will first create a research outline. Choose the sections in the outline you'd want to expand, and Waldo will generate answers by finding and summarizing several sources.
Within any of the sections, you can prompt it to search for more sources, and the tool will create a handy list that you can download as a CSV file.
Keep expanding those sections it suggested or add your own, and Waldo will create those summarized answers with sources for each one. All of these sections will be compiled in a single doc which you can export into Google Docs. You can edit this document to turn it into an article.
This tool can become a great writing assistant helping content creators come up with better-researched and well-structured articles with lots of useful citations. Jack Genesin has a very detailed guide on how to create content roadmaps, so that you can use the tool to its full potential.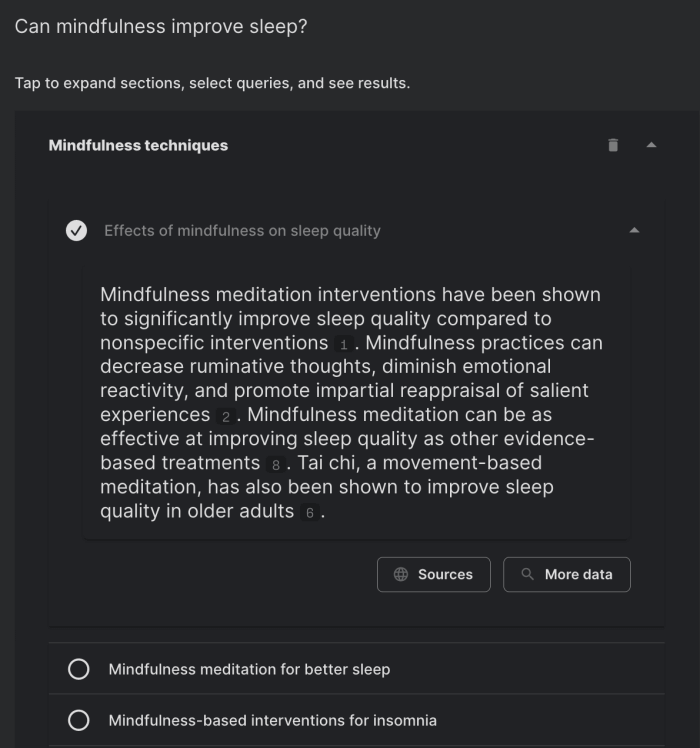 Wrap Up
Each of these tools presents new and interesting opportunities for content marketers. These are perfect examples of how AI can help improve your content quality if you use it right. Instead of using AI tools to automate content generation, use it to create more diverse, better researched and more in-depth content.
---
About the Author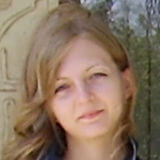 Ann Smarty is the Brand and Community manager at InternetMarketingNinjas.com as well as the founder of ViralContentBee.com. Ann has been into Internet Marketing for more than a decade, she is the former Editor-in-Chief of Search Engine Journal and contributor to prominent search and social blogs including Small Biz Trends and Mashable. Ann is also the frequent speaker at Pubcon and the host of regular Twitter chats #vcbuzz and #myblogu.
Get notified about our new posts
By submitting this form I accept the
Privacy Policy
and I agree to receive blog-related information from Super Monitoring.
Leave a response: