Sitechecker – Covers All Stages of SEO Campaigns of Any Scale
Sitechecker Review: SEO Platform Covers All Stages of SEO Campaigns of Any Scale
SEO is a very important aspect of the digital marketing strategy for a business website or a blog. With that being said, precaution needs to be taken when implementing this marketing strategy and you should have a reliable tool to gauge the performance of your SEO strategy.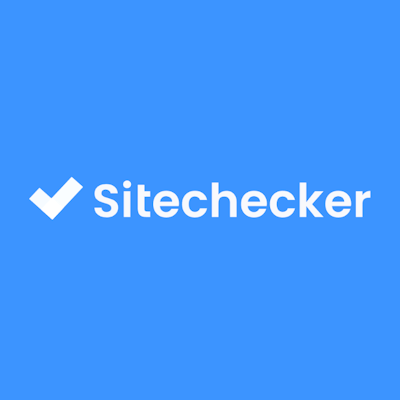 With plenty of tools and services on the market, it is often overwhelming for SEO professionals and digital marketers to choose the best. Sitechecker is a known-name and many SEO professionals recommend it. Before you invest time, effort, and money, it is imperative to get a clear perspective on it. To help you make the best decision, here is a detailed review of this tool outlining its pros and cons.
Pros of Sitechecker
Sitechecker has been hailed for its great benefits and unique customer experience it offers to business owners, bloggers, and marketers. What are those pros contributing to this great customer experience? Here are the top ones.
Ease of use
When you visit the Sitechecker website, you'll see that one of their selling lines is that they have an easy to navigate platform. If you are wondering about the accuracy of this statement, it is true and a lot of consumers vouch for it. All unnecessary distractions have been eliminated from their platform's interface.
Additionally, most tasks have been automated to simplify the lives of customers. There is limited data you have to input manually and that saves a lot of time while contributing to great user experience. Also, the reports come in a format that promotes readability over anything else to cater for non-technical savvy individuals.
Comprehensive actionable insights
Some call Sitechecker an all-in-one platform that offers comprehensive service for technical SEO on websites and blogs. After using this tool, you will have access to a complete SEO analysis report. That report will detail almost everything you need to know about where your site stands in regards to search engine optimization.
Choosing to use the tool will contribute to a better understanding of common weaknesses that occur frequently. With that information, you will be in a better position to learn and improve all SEO skills needed to manage your website successfully.
Customers also get page-specific tips to implement after running an analysis scan. For every page, you will get tailor-made solutions to fix any problems that might arise.
Offers a holistic view of the website
Above offering page-specific insights, Sitechecker can help business owners, bloggers, and marketers have a holistic view of their website. They can get to see how reputable their overall site is to consumers and how to improve on this aspect.
With this holistic snapshot, you will get details of common and large problems that are bogging down your entire collective SEO efforts.
When compiling this report, many factors are taken into consideration, including the website's accessibility, SEO performance, and reputation. All of these aspects can help you drive more organic traffic to the website and increase visibility exponentially. That is why Sitechecker ensures that you have these details whenever you need them.
Spying on competitors
SEO professionals love this feature because it helps them gain the upper hand to competitors regarding their SEO strategy. Perhaps, you are very busy checking up on trends in the digital marketing world regarding search engine optimizations. Keeping up with what competitors are doing can help you realize what you've missed out on.
You can then try to find a way to implement that strategy if it is efficient and remain competitive. Sitechecker can help you do that. By simply initiating a search on a site, customers can see recent changes made by competitors on their site. After further research about those strategies, they can then be used.
Large knowledge base
There are vast SEO advice and practical how-to content on this tool's blog offering business owners and marketers an opportunity to improve their skills.
To ensure that their content is relevant, they use Google Search Console guidelines as a primary reference. Since these guidelines change every now and then, Sitechecker also updates all content whenever an update or amendment has been made.
Their content is very detailed and useful but friendly to beginners in this industry. They try putting things in layman terms, without overlooking crucial pieces of information. As a result, regardless of your knowledge level, the content is extremely helpful and efficient.
Resolves security concerns
Security is not a luxury anymore but is a necessity for all websites. Because of advanced cybersecurity techniques, every site needs to strengthen its security measures and let customers know of this.
If a customer does not clearly see that your site is safe and secure, they might not visit it. Whereas, one that is visibly safe from malicious activity or sophisticated attacks might have more traffic.
Sitechecker helps you get SSL certified and meet all security requirements expected from the site. This tool's SEO monitoring feature helps prevent phishing and malware incidents from occurring and harming the business's reputation. That is another value-added benefit provided by Sitechecker to its users, which brings great results.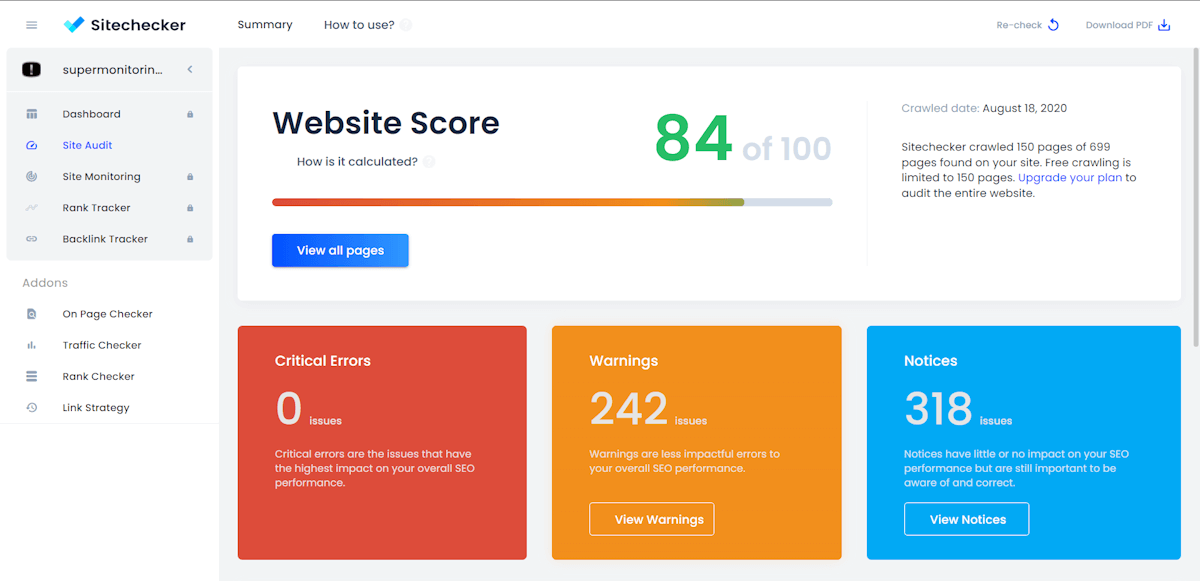 Cons of Sitechecker
Just as any other imperfect human creation, this tool does have a few minor cons and here are they:
Automation of tasks might result in inaccurate findings at first
One great feature of this tool is its automation capabilities and limited human intervention required to get it up and running. Although that might be a great feature, it possesses some problems along the way. For example, when running its very initial scans, they might be a little bit inaccurate because this tool does everything automatically.
As time goes on, Sitechecker catches on and starts operating seamlessly at peak performance. That is when the automation of tasks comes in really handy because you do not have to worry about inputting a lot of information every time you're running a scan.
Does not dwell much on SEO issues caused by coding problems
SEO issues are everywhere and they might be originating from the code itself. It is very important to isolate any problems affecting the SEO from the code and unfortunately, Sitechecker does not offer comprehensive insight into this service.
Customers have complained more, especially about problems relating to CSS code. Hopefully, soon, this platform will expand its horizons on matters regarding SEO issues originating from faulty code. If your code is done by professionals who test their work or a CMS system, this should not be a problem.
The bottom line
Sitechecker is a very reliable and powerful SEO analysis tool that offers comprehensive, in-depth insights. It has great value-added benefits such as strengthening security measures and access to a large knowledge base. You can analyze a single website page or the entire site to get a holistic view. You will also get to analyze the business reputation and take appropriate action to keep it at a desired level.
---
About the Author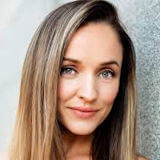 Kate Peters is a digital marketing expert working with a software development company and managing their PPC and social media campaigns. She has published several eBooks on social media marketing and currently undertaking a course on media buying. Her skills and natural talent make her one of the best in the business.
Get notified about our new posts
By submitting this form I accept the
Privacy Policy
and I agree to receive blog-related information from Super Monitoring.