Secure your Website's data on the Cloud with CodeGuard
If you value your data, you know you should back it up. Be it personal or professional, some data is just too important to not be secured. That's the reason tech papers and websites keep publishing articles on data security and backing up needs, and also horrific tales of data loss!! If you don't want to end up on the wrong side of data loss, you better back up your website data in time.
Your website may contain your company information, product pages, blog posts and more. Do you really think sheer good luck would be enough to keep that entire data safe? Can you imagine staying afloat if all the hard work behind building and maintaining your website went to trash? If the answer to those questions is "No", safeguard your website with CodeGuard today!
CodeGuard – Your website's time machine!
Taking backups is a good habit, but taking clever backups is an art. A majority of us still rely on conventional backup techniques like external hard disks, CD/DVDs and the like for securing our data. While these are all still very effective, they themselves run the chance of damage over time. Hence, most people and corporates use Cloud backups today as a robust and ultra-secure backup technique. CodeGuard is probably the most widely used and trusted Cloud backup service available in the market.
Having a Cloud backup means you'll have the freedom to access your backup data from anywhere in the world. Plus, you won't need to physically carry any removable devices with you when you want to refer to it. Add to that, the benefit of saving everything over the Internet, and you have a clear winner!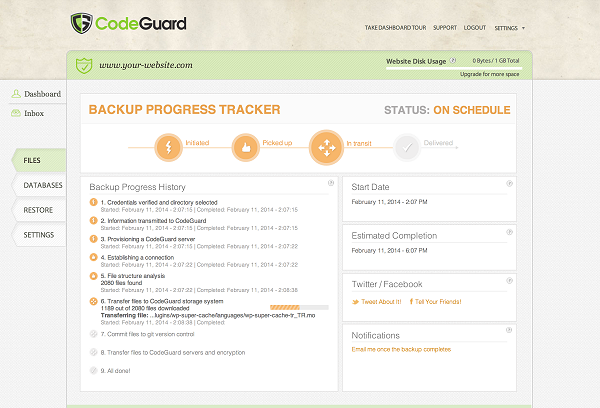 With an efficient and easy to set up interface, CodeGuard makes backing up, monitoring and maintaining your website a piece of cake. Just sign up and you'll be provided with a 14-day free trial of this awesome service. For signing up, CodeGuard gives you the option to provide the usual details, or alternatively, your PayPal account details if you have one. Using PayPal though facilitates a smoother paying scheme, comes with an attached string – you don't get the free trial. So choose wisely here!
CodeGuard assures that once you've enrolled with them, you can simply forget about your backing up needs. They'll take of everything. From automatic timely backups to tracking changes to rolling back to previous backups if needed – they've got it all under control. You can finally have the peace of mind you wanted!
Why would you need CodeGuard
Maintaining a website is a challenging task. There is so much text and media to take care of. And if your website includes user accounts and their details, its even tougher. You have the additional responsibility of protecting your user's data too. As such, backing everything up becomes even more crucial.
Modern day websites face many threats including hacking, accidental deletion of data, injections of unwanted code, software upgrade failures and others. Protecting your data means saving yourself from loss of time, money and reputation.
Key benefits of CodeGuard
When it comes to offering significant advantages, CodeGuard shines like a star! The timely automatic backups mean that you have one less thing to remember. You won't need to set any reminders for this. Just sign-up, setup and forget about it.
CodeGuard proves its real worth if there are many people having access your website's database. It highlights changes made to code and other data so that you can keep track of what is going on when you're not around. That gives you the edge and authority to keep tabs on unwanted code injections and data changes on the website. With an easy rollback option to a previous state, CodeGuards makes sure that only the data you want to make public is exposed on your website.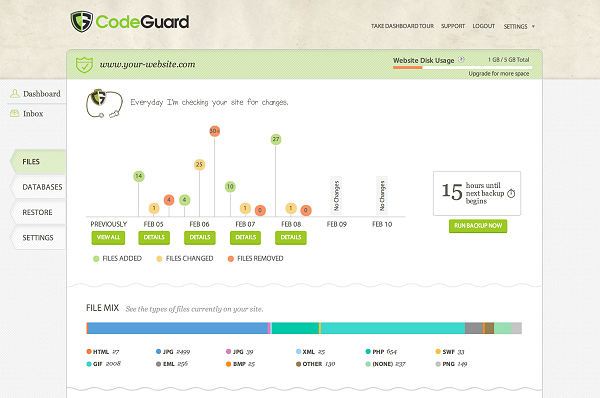 A mere look at the pricing options is enough to realize how cost-effective CodeGuard is. Plus, it is cross-platform – another medal in the bucket!
A section of CodeGuard's website is dedicated to explain to new users how it works. This section contains text and screen-shots that offer a sneak peek into the tool's Control Panel that helps potential users understand the tool better.
A nice to have feature to the CodeGuard website is their blog which contains quite informative articles. Accompanied by video tutorials, these articles give a new dimension to learning.
Here's the catch
The only issue with this brilliant tool is that you can't start using this tool until you make the payment. That is, even to receive a free trial, you will have to pick a payment plan and fill in your card details. So basically, signing up isn't free!
To some people that might be a hindrance because when it comes to filling in card details, you can't be in a lets-try-and-see-how-it-works mode. You'll want to be sure. It would have been a lot better if users were given the choice to try out the tool only by giving in their basic details – no card details involved. That way, if they love the tool, they will anyways purchase it post the trial. And at that time, they'll be sure enough!
In the absence of such a setting, you'll simply have to rely on the testimonials provided on CodeGuard's website for reference. While some of us might find relying on other user's statements easy, others might prefer experiencing it themselves first.
So is this really a glitch? Definitely for some, not so much for others!
Get a time machine for your website and back it up with @CodeGuard codeguard.com/ via @supermonitoring
Final Words
A good website backup plan includes backing up all the data to a location where it is easy to maintain, manage and restore when needed. What better location for that than the Internet! No access restriction, no time limits and no space constraints. Plus it's all automated and super smooth. Try out CodeGuard today and experience what so many people have been appreciating.
Get notified about our new posts
By submitting this form I accept the
Privacy Policy
and I agree to receive blog-related information from Super Monitoring.