Real Favicon Generator: consistent & cross-platform favicons
Let's start with the basics. For those of you who aren't familiar with a Favicon, it is a short term used for "Favorite Icon". A Favicon is basically the shortcut icon, website icon, bookmark icon or tab icon for a website. It is just a file associated with a website or webpage that contains one or more small icons about 16 x 16 pixels in size.
Let's boil it down to a common man's language. A favicon is the small icon or picture you see on the extreme left hand side of a tab when you open up a browser window. It might be the picture of the website's name initial or any other picture that is unique to that website. For example, Facebook has a white "f" symbol within a blue square as its favicon and it is used as the default symbol for Facebook on all platforms, PCs (websites), mobiles and tablets (apps) alike.
When you launch your website, you take care of all the little aspects there are to it. You even test the website on different platforms and devices. But often you find that the favicon you selected for your website though looks good on PCs, becomes garbled, rescaled or is absent on mobiles and tablets. And no matter how much you try, you can't seem to fix this issue until you get into the core programming. Why bother so much when you have Real Favicon Generator at your service? Check it out!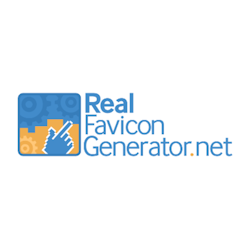 RealFaviconGenerator.net – The Favicon Genie
Real Favicon Generator is an online tool to generate very real and usable favicon pictures and HTML code that work on all major platforms and browsers. The tool is backed by extensive research and testing to provide you with awesome favicons that work on PCs, Macs, iPhones, iPads, Android devices, Windows 8 devices and more.
The tool works on the basic principle that instead of giving you a single favicon.ico file, it gives you all the pictures and HTML code you need to get a cool, mobile and tablet-ready favicon. This is in sharp contrast to most favicon generators that stick to the .ico only methodology which works on some platforms and doesn't work on some.
Your website's favicon is probably just a picture on the PC but it becomes the identity of your website as you shift to other devices like smartphones and tablets. As your website's or application's popularity soars, users start recognizing it through its favicon itself. It hence is pretty worthwhile to have a good favicon and to test its working on all devices and platforms. Here's where Real Favicon Generator works its magic.
Basic Working
Visit the website of this brilliant tool and scroll down. You'll see a big blue button that prompts you to select your favicon picture and a smaller green one that gives you a demo option with a sample picture. Clicking on the blue button open the Windows browse dialog box through which you can select your favicon pictures if you have any. First time users should click on the green button to understand and try the tool out.
As soon as you click on the green button, another page will load showing you sample favicons for iOS (Web Clip), Android (usual icon) and Windows 8 (Tile) including the sample icon for a dummy website "mywebsite" to give you an idea how your favicon would look once generated. With each platform's favicons you'll be given some options to customize their look and feel through radio buttons and text fields.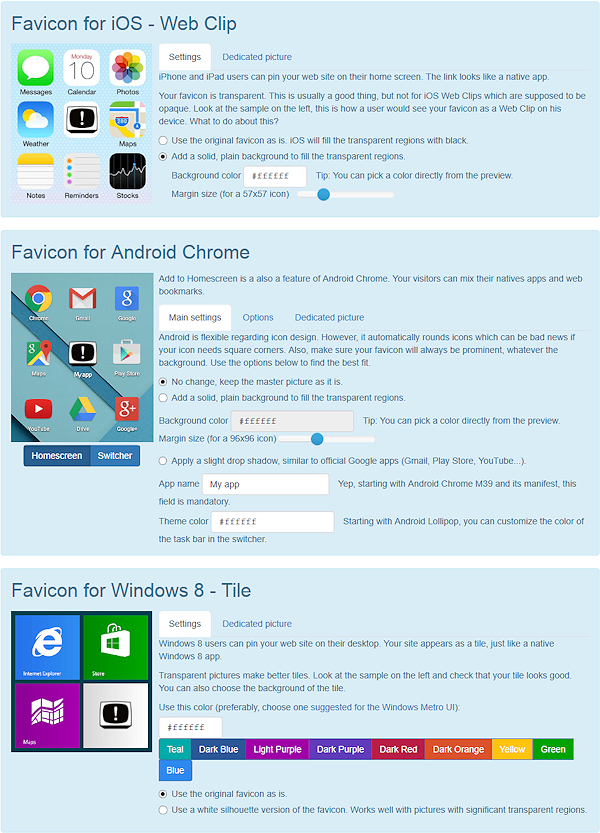 On scrolling to the very end you'll see other Favicon Generator Options to customize the following settings:
Path – where you'll place / upload your favicon files and HTML code
Version / Refresh – to set if the favicon being generated now is a new one or a newer version to an old one
Compression – to compress the favicon pictures by 50 – 80%
Scaling Algorithm
App Name – a caption for your website / app's homepage
Once you're satisfied with the settings, click on the "Generate your Favicons and HTML code" button. Another page will load showing options to "Install your Favicon" in a host of language options including HTML, XHTML or Jade. Alternatively, you could use the Real Favicon Generator API to copy the code to your clipboard and use it directly.
Scrolling down further brings you to a "Share and Support Us" section where you can choose to tell the world about this awesome tool or donate to it and support the talented minds behind it.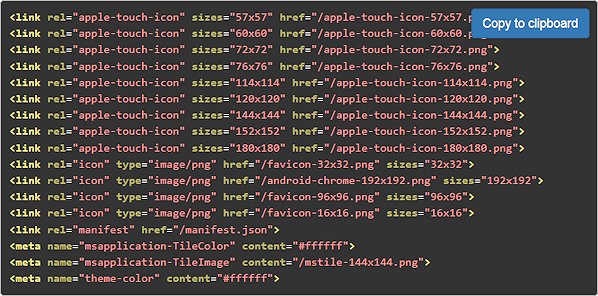 Additional Features
If you already have a favicon in place, you can see if there's any room for improvements in it through a "Check Favicon" button given on the tools homepage. Just type the URL of your website and hit the button to run the check. No harm there!
Pros Vs Cons
Obvious high points of the tool include its sheer utility, ease of use and simplicity. It's not a very wide spread tool in terms of its purpose but it achieves what it claims to do. In our opinion, that's more than enough! Plus, it doesn't need the users to give sign-up details and waste their time. Rather it allows them to get straight to business. And above all, it's a free tool. What more can you ask for!
There is no real con in this tool except that there could be more web development languages supported. Though it tried to make up for it through its API that can be copied and used, dedicated code that could be just download and straightaway uploaded would be much easier.
Generate perfect favicons for all platforms with @RealFavicon realfavicongenerator.net via @supermonitoring
Final Words
All in all, Real Favicon Generator is a brilliant effort deserving its credit. If you have or are thinking of launching your own website, don't look further to search for the perfect favicon generator.
Get notified about our new posts
By submitting this form I accept the
Privacy Policy
and I agree to receive blog-related information from Super Monitoring.