Readme: Beautiful solution for dev's documentation
Technology has completely changed the way business houses function today. Most of them have gradually started shifting from the traditional ways of creating their own services to the newer and smoother approach of deploying APIs. APIs have the potential to increase a firm's revenue while extending their consumer reach. As such, having a tool that helps build quality API documentation is essential.
In case you're wondering how you can start generating documentation for APIs, we give you a highly accurate and dependable API specialist, Readme!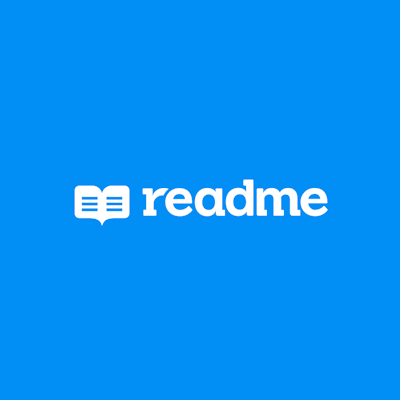 Readme is a tool which helps you devise documentation for the APIs you build. Every documentation site that you report on the platform is recorded like a project which includes interactive API guides, a dedicated change log, and much more. What's more, it also includes tools to let you track how your customers use your APIs with personalize support.
Through this post, let's dive in and get a better grasp of what the tool is all about.
Readme: API guidance at its finest
Readme is an efficient tool which lets you automate your entire documentation process. It acts as a hub for codes and API, while giving you the liberty to customize your CSS. The software serves as a documentation focal point for your users to pick out the APIs that they find relevant.
One of the most useful features that we believe Readme has is the forum wherein consumers can type out the queries that they have. They can also drop certain suggestions or tweaks that they think are required, thus making the software a collaborative collection of APIs.
Readme boasts numerous features that ensure a seamless flow. A few of them have been mentioned here:
The software allows users to create their own API calls, which can be further used to generate and run real codes.
The tool is very easy to get a hang of and can be used by multiple members, thanks to its flexible user permissions which ensure a hassle free workflow.
The editor that Readme comes equipped with ensures that your documentation is up to date since it enables you to merge a suggested edit within moments and can easily take on swagger files as well.
The tool enables you to analyze how your API endpoints are being used which further helps you to make better and more sound decisions.
Readme also enables you to highlight your leading API users while generating usage graphs which help you to find out your prospects from a pool of users.
You also get the option to interact with your users and further monitor them to ensure that you know about their preferences in order to inculcate a healthy relationship.
Readme is an advanced tool which provides teams with the tools necessary for creating and managing interactive and elegant documentations with ease. It facilitates them to monitor their APIs and link with their consumers in a more intimate way.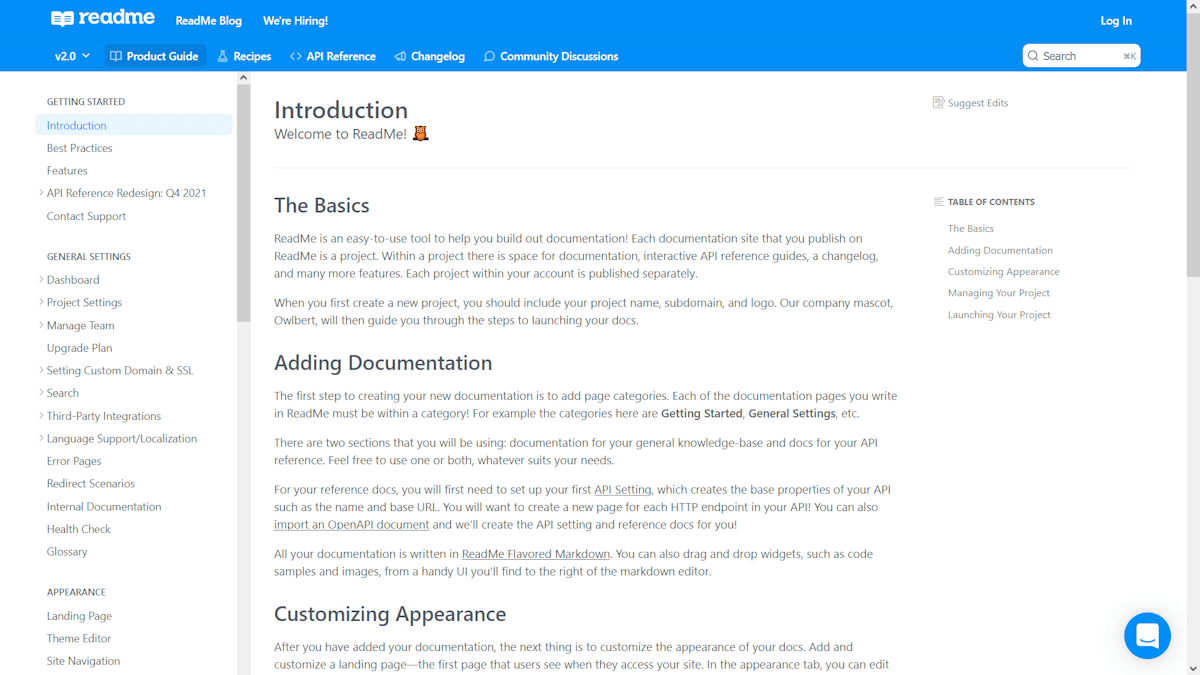 How does it work?
Here are a few steps to have Readme up and running in a jiffy:
You'll require your Google credentials to create an account with Readme. After filling them out, you'll be asked to specify your project name along with a specific domain name to recognize the project.
Once in, you'll be taken to your dashboard wherein you'll find the various options which will help you in creating the documentation of your new project. At the very bottom there is a search option which enables you to quickly look up a feature that you can't find in the dashboard.
On the right hand side, in the bar you can look at the metrics option which is the collection of all the graphs, API calls, endpoints, new users and your page quality.
Under the project tab, dedicated options like configuration, appearance, suggested edits and versions provide you with quick actions which help you to improve your workflow.
Under the documentation tab, you have the option of creating an interactive and eye catching landing page, which is the first wall that your users will come to. Further options like creating a specific change log and using a guide to better your API are game changers.
All-in-all, Readme is a very efficient software which helps you to not only keep a tab on your ongoing projects but also lets your peers look at the progress while simultaneously adding comments to enhance the quality. In our opinion Readme is a very capable tool which single handedly takes over the process of creating a unique and interactive programming interface.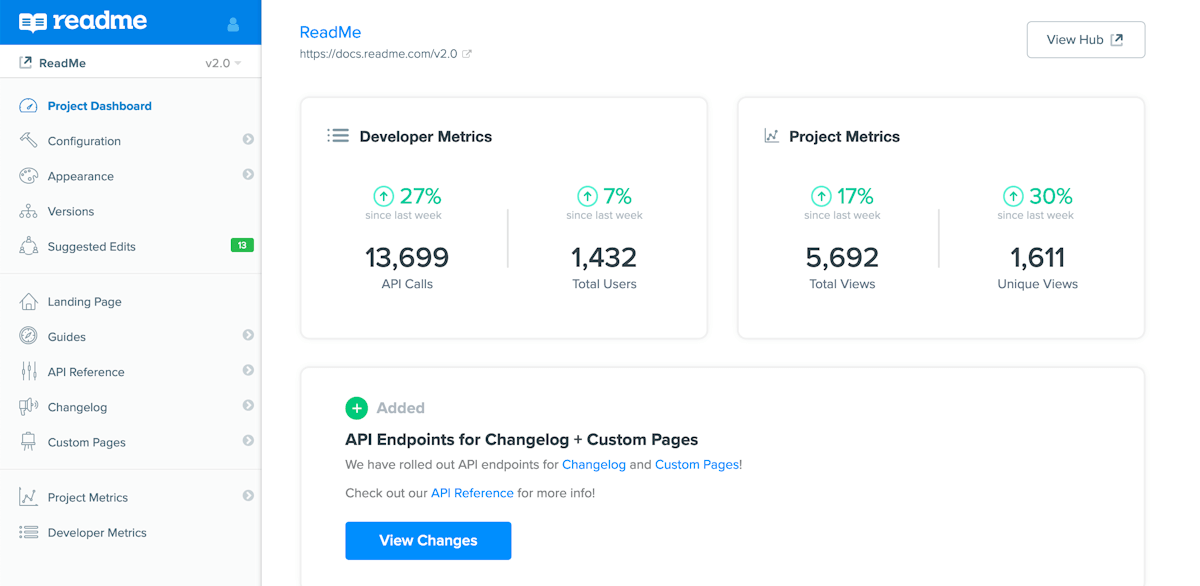 Evaluating Readme
Although the tool stands apart from its competitors due to the various features at its disposal, there are certain downfalls and upsides to its name. In this section we will evaluate the product as a whole and see if it is the best pick:
Pros
The developer hub is very neat and the dashboard is quite precise.
The ample amount of customizing that you get lets you give your project a sense of personal touch.
Multi-user option is very helpful since your fellow mates can keep a tab on the documentation as well.
The option to make sample API calls and generate real codes gives it a slight edge over its competitors.
Cons
There are certain breaking bugs at times which have to be fixed.
The software takes some time to run since it packs numerous features.
Although Readme boasts numerous integrations, certain leading names have yet to be onboarded.
Interactive developer hub for smart developers @readme readme.com/ via @supermonitoring
Final verdict
Readme is a very versatile tool. Its real time code execution, with the generated API calls, is a feature which comes in very handy. The software's UI is quite precise and the host of features that it packs is sure to sweep you off of your feet when you gear up to work.
Get notified about our new posts
By submitting this form I accept the
Privacy Policy
and I agree to receive blog-related information from Super Monitoring.