Editpad vs Quillbot: a Comparison Between Text Summarizers
When it comes to AI text summarizing, Editpad and QuillBot perform exceptionally. These are two of the most widely used summarizing tools for a number of reasons. These platforms not only provide the facility of AI summarization but also other features that help writers craft a decent piece of writing.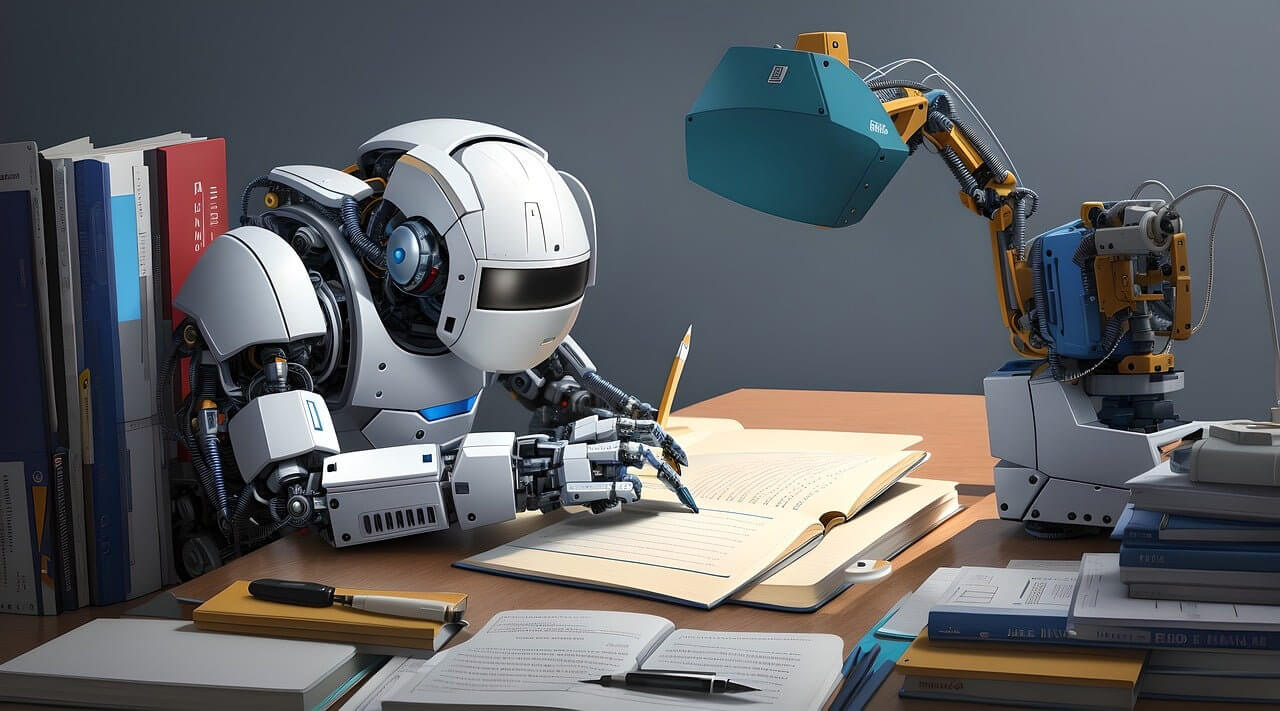 In this article, however, we are going to stick to the summarizer tool that these two platforms provide and compare their performance.
Which one provides more accurate summaries? Which one has decent premium features? We are going to discuss the features these tools provide you and help you answer similar questions.
Buckle up to get a detailed comparison between these 2 powerful text summarizers.
Editpad Vs. QuillBot – An Overview
Before we dive into discussing the summarization quality and other features of these platforms, let's discuss both of these tools briefly.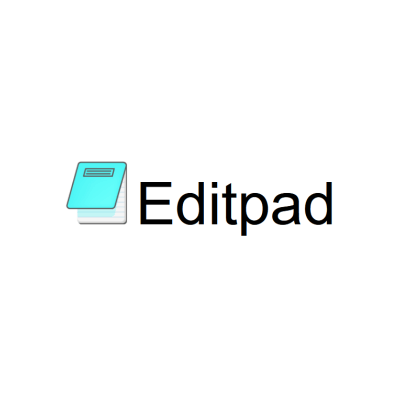 Editpad
Editpad is basically an online notepad platform. Similar to Microsoft's notepad (according to its developers.) The difference, however, is that you can perform different actions on your text using this online editing tool including summarization.
It provides a wide range of integrated tools that can be helpful for users to enhance their productivity and content quality. Don't worry, we won't bore you with the detail of these tools and stick to the topic.
QuillBot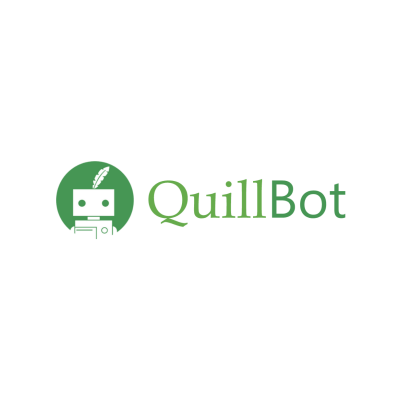 Originally developed to allow users to paraphrase their content with the help of AI, QuillBot provides many other tools which include paraphrasing. It is one of the most widely used platforms with over 150 million users.
One of the basic reasons why people use this tool is the quality of its output. But we are going to leave that to you to judge.
For now, you can consider this tool as a primary go-to place for writers seeking assistance to enhance their content quality.
Editpad Vs. QuillBot – Summarizer Tool
Now, let's get straight to the point. Let's discuss the different features of both of these platforms' summarizer tools.
Editpad's Text Summarizer
Editpad is a text summarizer that allows you to summarize a text consisting of 10,000 words at a time in its free version. You can set the limit of how much of the text you want to summarize by moving the slider at the top.
Moreover…
You can directly upload the text document that you want to summarize directly from your device.
It is a multilingual platform which means you can summarize content in different languages.
Once summarized, you can copy the text or download it in a document file.
To test the summarizing tool of Editpad, we provided it with text taken from this article to see how it performs. Here are the results: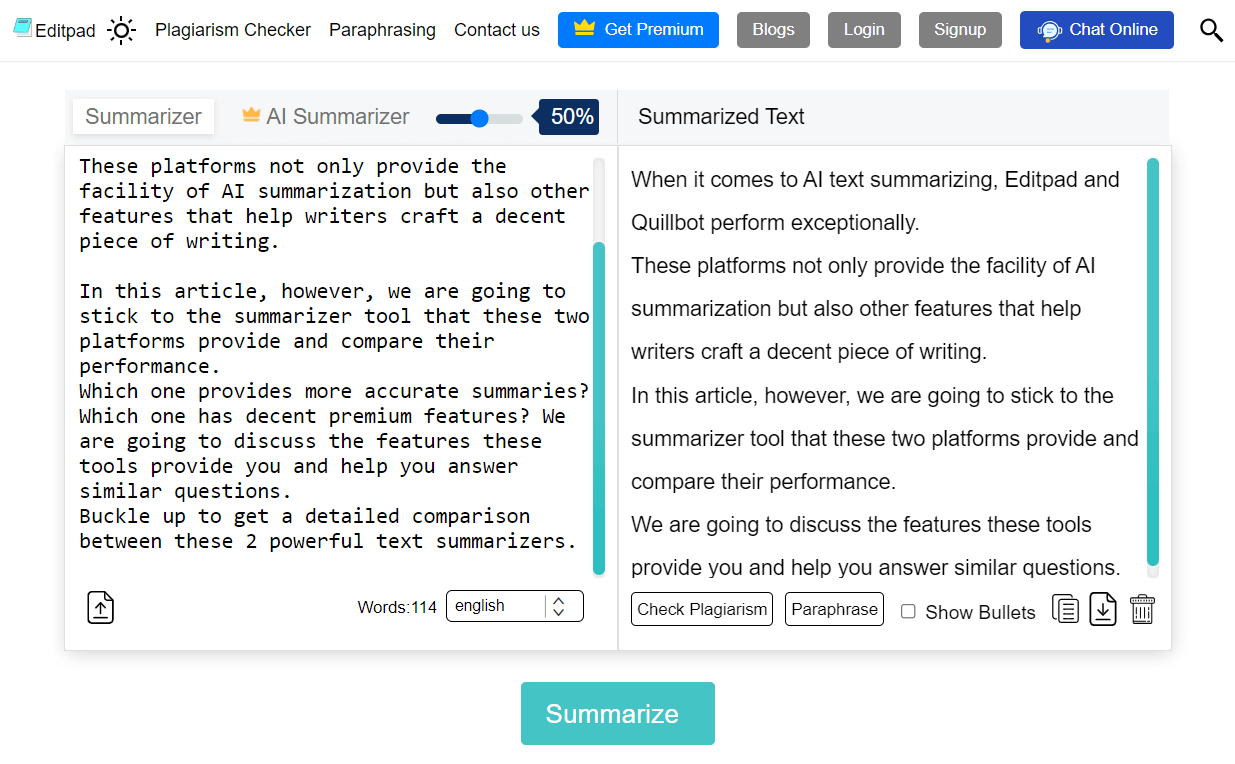 As you can observe, the tool effectively summarized the provided content that successfully explains the main idea of the text in fewer words.
You can turn on the "show bullets" option to see the sentences in bullet form which can help readers read the content easily.
Editpad's Pricing Plans
Since Editpad already provides the ability to summarize a huge amount of content for totally free, its premium versions might not tempt users who only want to use it for summarization purposes.
Regardless of that, purchasing the premium versions can help you with other integrated tools of Editpad. Here's the detail of the pricing plans of this tool.
Basic
| Features | Basic Student | Basic Monthly | Basic Semi-Annual | Basic Annual |
| --- | --- | --- | --- | --- |
| Price | $7 | $19 | $69 | $99 |
| Search Queries | 5,000 | 15,000 | 70,000 | 120,000 |
| Validity | 7 days | 30 days | 180 days | 365 days |
| Plagiarism Limit | 1,500 Words | 1,500 Words | 1,500 Words | 1,500 Words |
| Paraphrase Limit | 2,000 Words | 2,000 Words | 2,000 Words | 2,000 Words |
| Ads | 50% | 50% | 50% | 50% |
| Login Devices | 3 Devices | 3 Devices | 3 Devices | 3 Devices |
Pro
Features
Pro
Student
Pro Monthly
Pro Semi-Annual
Pro Annual
Price
$9
$29
$129
$199
Search Queries
6,500
20,000
85,000
150,000
Validity
7 days
30 days
180 days
365 days
Plagiarism Limit
3,000 Words
3,000 Words
3,000 Words
3,000 Words
Paraphrase Limit
5,000 Words
5,000 Words
5,000 Words
5,000 Words
Ads
Ad-Free
Ad-Free
Ad-Free
Ad-Free
Login Devices
Unlimited
Unlimited
Unlimited
Unlimited
QuillBot's Summarizer
Although QuillBot's summarizer provides various features, it only has a 1,200-word limit in the free version (and it only goes to 6,000 in the paid version.)
Just like Editpad, you can directly upload your content in the document format and select the length of the summary. However, instead of percentage, you select from four levels that come between "short" and "long".
Here are the features this tool provides that make the summarizing process convenient for users:
You can either pick up the most important sentences from the content or summarize them in paragraph form
You can control the length of summarized content
You can compare the statistics (word count) of original and summarized content
To check the performance and summarization quality, we provided the tool with the same content we provided in Editpad, and here are the results: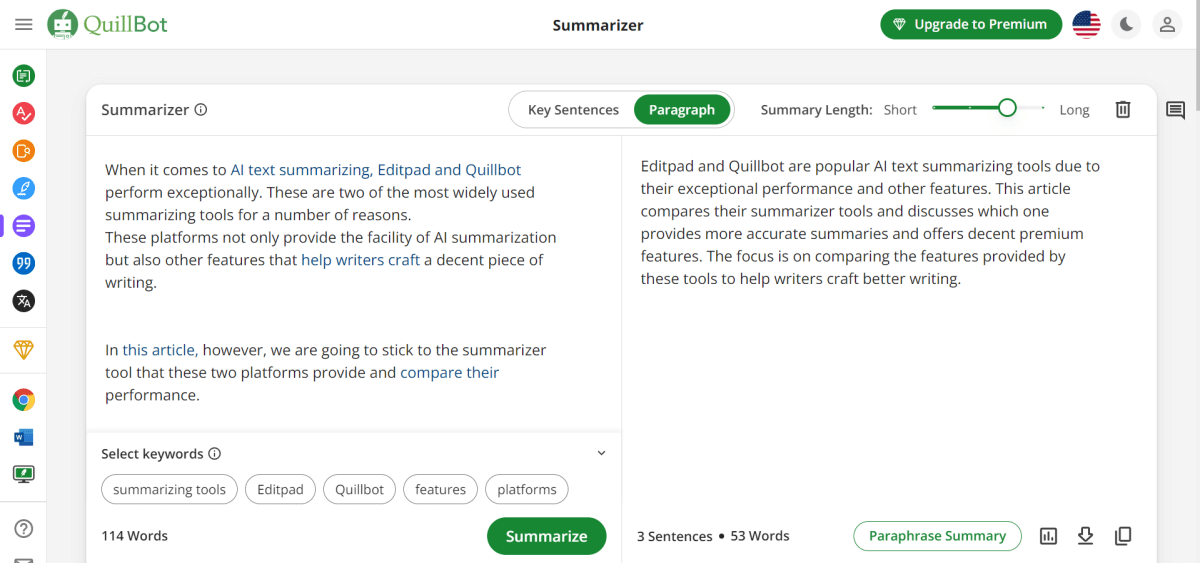 As you can observe, the tool provided quite a good summary of the provided content. If you are wondering how it picks the most important sentences (key sentences) from the original text, here's how it does it: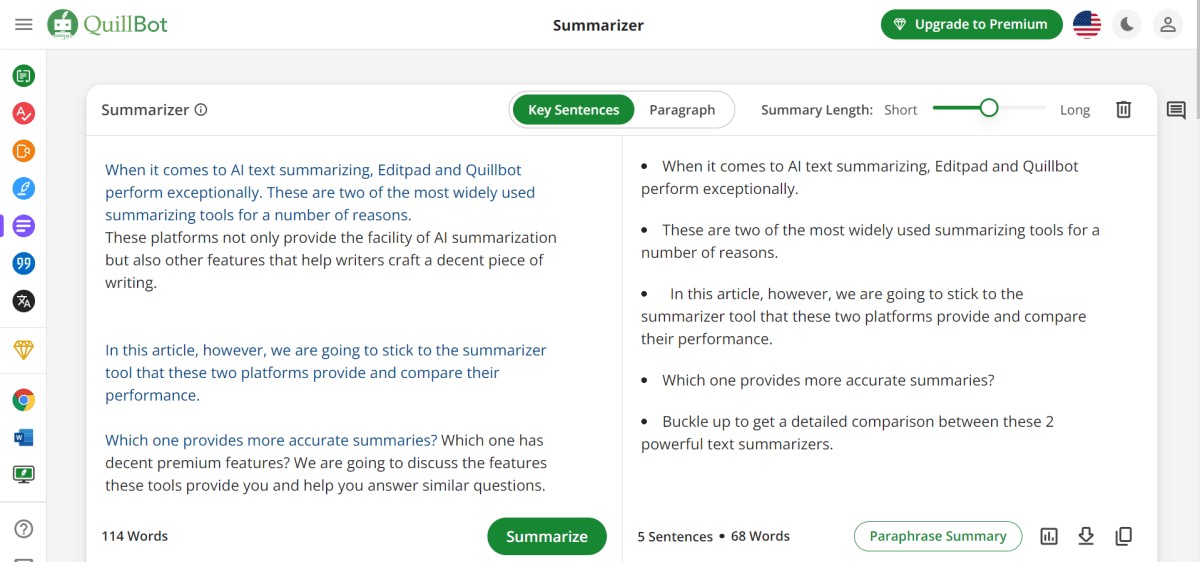 QuillBot's Pricing Plans
Seeing all the features that this platform provides in its summarizing tool which includes picking up the key sentences and providing statistics, it can be a little tempting to purchase the premium version of this tool.
For the people who are interested in buying the premium version of QuillBot so they can enjoy its exclusive features to unlock convenient features and increase the word limit, it provides the following premium plans to purchase:
zzzzz
Monthly
Semi-Annual
Annual
Monthly price
$9.95
$6.66
$4.17
Billed
$9.95 monthly
$39.35 every 6 months
$49.95 every 12 months
Features
• Unlimited words in paraphraser
• Full use of synonym slider
• 6,000 words in summarizer
• Faster processing speed
• Plagiarism checker (20 pages per month)
• Unlimited freeze words
QuillBot only provides three premium plan options for its users which are a little less than Editpad. This can be a concerning factor for people who are budget-conscious.
Editpad Vs. QuillBot – A Head-To-Head Comparison
Now that we have discussed different factors of summarizing tools of both Editpad and QuillBot, let's take a look at the head-to-head comparison of these tools.
| Editpad Summarizer | QuillBot Summarizer |
| --- | --- |
| A 10,000-word limit in the free version | A 1,200-word limit in the free version |
| Allows you to control summary length via percentage | Allows you to control summary length in four levels |
| Direct document uploading and downloading feature | Direct document uploading and downloading feature |
| No statistics comparison | Allows you to compare statistics |
| Various premium plans | Fewer premium plans |
Since Editpad allows you to summarize a huge amount of content in the free version and has various premium plans to select from, it can be a little more beneficial for you (especially if you want to summarize content in bulk).
Summarization of a shorter text can be performed manually without facing any inconvenience.
But when it comes to extracting the most important parts of content consisting of thousands of words, you will need the help of an online tool.
Since Editpad provides you the ability to summarize a huge content even in its free version, it gets a little extra edge over QuillBot in this debate. Moreover, it provides you with different premium plans so that you can choose the one that is the most convenient for you.
Conclusion
Editpad and QuillBot are two of the most widely used platforms to summarize text with the help of AI. These tools provide different features in their summarizing tools that help people get quality summaries within no time.
The above comparison between their features will help you understand which tool provides better quality and has convenient features and which one doesn't.
---
About the Author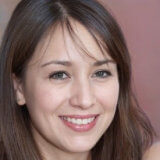 Evie Alice is a professional content writer. She puts a lot of effort and value into her articles. She has 6 years of experience in content writing.
Get notified about our new posts
By submitting this form I accept the
Privacy Policy
and I agree to receive blog-related information from Super Monitoring.
Leave a response: